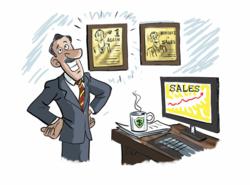 Online advertising is set to grow by over 11%, claiming 20% of the world's advertising dollars and overtaking print as the second biggest global media category after television
Saint George, UT (PRWEB) January 31, 2012
Online Video Marketing has been proven by experts to be a new trend in successful marketing strategies. There are numerous benefits to Video Marketing, with YDraw introducing the Top 5.
Top 5 Benefits of Online Video Marketing
1) Audience Appeal: Reading information from a manual or presentation can become dull and unexciting. Most people do not want to read information, they want to be entertained and see products come to life. Marketing Videos can be used to enhance consumer's experience, educate them about the product, and entertain them at the same time. A video sets of emotional triggers that plain text cannot do, and can ultimately lead to a consumer's choice to buy a product.
2) Video-On-Demand: Just like Netflix appeals to it's users, marketing videos can be downloaded at anytime, and viewed from almost anywhere. They are easily accessible, easily saved, clutter-free, and environmentally friendly. What else would someone want in an advertisement?
3) Affordable: As Online Video Marketing becomes more and more popular, competitors increase, and it is becoming increasingly more affordable to create a clean and concise video advertisement. YDraw is one of the most upcoming affordable online video marketing companies available today on the market, and they continue to increase their productivity and affordability.
4) Increasing Visits: Statistics show that videos can increase the number of business profile clicks by more than 30%, increase business calls by 18%, increase website visits by 55%, increase physical store visits by 30%, and can increase incidence of purchase by 24%. Over 40% of people today watch online videos on a weekly basis, with over 70% watching online videos at least once a month.
5) Top Rankings in Google Search Engines: Google allows videos to be searched and ranked according to their popularity and relevance to topics that the user searches for. Videos are a great way to optimize searching and help brands get their names into Google's top searches.
Ydraw Tip of the Day: Use Keywords
Add simple words and phrases that an interested consumer would search for in video headings, captions, and anywhere else that text is allowed. This will make any video rank higher on search engines.
There is no better way to spread the word about a business or company than making a great Online Marketing Video. Visit Ydraw for some amazing examples of how to keep whiteboard animation marketing videos sweet, simple, exciting, and compelling. Join the rest of the growing businesses who are ahead of the game and already catching onto the fad. Get started and create your amazing video scribed video today.
###