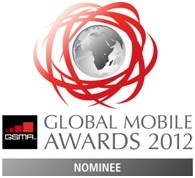 It is great recognition from such a distinguished organization and we are grateful for our clients and their commitment to SpyderLynk as their trusted mobile marketing solutions partner.
Denver, CO (PRWEB) January 31, 2012
SpyderLynk, a leading marketing technology company and creator of the SnapTag™, and its client, Glamour, today announced they have been shortlisted as a finalist for the Best Mobile Innovation for Publishing in the GSMA Global Mobile Awards. Winners will be announced at the Mobile World Congress in Barcelona, Spain on Tuesday, Feb. 28, 2012.
SpyderLynk and Glamour are being recognized for Glamour's innovative use of SpyderLynk's Social SnapTags in their September, 2011 Social Issue, which featured Social SnapTags throughout the magazine's editorial and advertising pages, enabling and incentivizing consumers to join brands' social networks. During the important fall advertising season, Glamour readers embraced the use of social media and mobile to communicate with the magazine and its advertisers – as evidenced by the results: Reader engagements for the program totaled more than 512,000 and nearly 51,000 readers "liked" Glamour's advertisers on Facebook. Moreover, conversion rates for several key metrics were significantly higher than traditional advertising mediums. First, of the readers who snapped or scanned the Social SnapTag, 67% of them liked the magazine/brand to access deals and second, 18% shared those deals with friends.
"We are honored to be named a finalist for GSMA's Global Mobile Award," said Nicole Skogg, Founder and CEO of SpyderLynk. "It is great recognition from such a distinguished organization and we are grateful for our clients and their commitment to SpyderLynk as their trusted mobile marketing solutions partner."
"Reflecting the intensity of competition and innovation across the mobile ecosystem, we saw a record 600 entries and an exceptionally high quality field of contenders vying for this year's Global Mobile Awards," said Michael O'Hara, Chief Marketing Officer, GSMA. "It is a significant achievement to have made the shortlist, and our warmest congratulations go to all the nominees announced today. We look forward to the unveiling of the winners at the Mobile World Congress next month."
The GSMA is a worldwide mobile communications organization spanning more than 200 countries that is dedicated to innovating, incubating and creating new opportunities to drive the growth of the industry. For sixteen years, the GSMA Global Mobile Awards have showcased cutting-edge mobile products, services and initiatives around the world.
How Social SnapTags Work
Social SnapTags feature Facebook or Twitter icons that are placed on print and digital mediums to give consumers an opportunity to LIKE or FOLLOW a brand. Consumers with an Android or iPhone scan the Social SnapTag with the SnapTag Reader App while those with standard camera phones simply snap and send a picture of the Social SnapTag to the designated short code. To accelerate consumer engagement, marketers have the opportunity to incentivize consumers who LIKE their brands with special offers like access to sweepstakes entries, exclusive content, free samples and discounts. Consumers can instantly share offers with their friends. This turnkey tool allows consumers to share brand offers by activating a Facebook post, Tweeting or emailing their friends directly from their mobile phone, thus extending the footprint of the Social SnapTag campaign substantially. Learn more and purchase Social SnapTags at http://www.socialsnaptags.com.
About SpyderLynk
SpyderLynk is a mobile activation and marketing platform company. SnapTags and Social SnapTags are SpyderLynk's proprietary 2D Mobile Barcode solutions enabling marketers to use meaningful logos and icons as interactive marketing tools. Consumers with smart or standard camera phones can use SnapTags placed on packaging, advertising, signage or screens. A smart, algorithm-driven platform powers campaigns ranging from simple to sophisticated accelerating purchase cycles and driving marketing results. Brands such as Coke Zero, Revlon, L'Oreal, MillerCoors, Warner Brothers, Toyota, Bud Light and others are using SnapTags and Social SnapTags to activate best in class marketing and accelerate their social connections. Based in Denver, Colorado, SpyderLynk was founded in 2006 and can be found online at http://www.spyderlynk.com. Follow us on Facebook (facebook.com/snaptag), Twitter (@SpyderLynk) and through the #SnapTag hashtag.
###