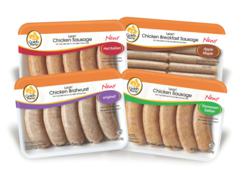 St. Cloud, Minn. (PRWEB) January 31, 2012
GNP Company™, the Midwest's largest chicken producer, has launched its first-ever line of Gold'n Plump® chicken sausages, brats and breakfast links. From Parmesan Italian and Hot Italian Chicken Sausages to Chicken Bratwurst and Apple Maple Breakfast Links, the new Gold'n Plump product line will bring fresh, premium quality chicken sausages to grocery stores throughout the United States.
Gold'n Plump's new chicken sausages, brats and breakfast links have 50 percent less fat than most pork varieties and often less fat and sodium than many competing poultry sausages. All four products are gluten-free and nitrate-free; three (with the exception of Parmesan) are also dairy-free. "Gold'n Plump consumers told us they're looking for healthier alternatives to pork brats and sausages," says Sara Danforth, new product development manager for GNP Company.
"The Gold'n Plump chicken sausage line is made from premium quality, boneless, skinless thigh meat and is comprised of flavor varieties that consumers are looking for in brats and sausages. Chicken is a natural fit, because it has a neutral flavor base that easily absorbs seasonings," says Danforth. Industry reports show that Italian and Bratwurst types of sausage are the fastest growing in the industry(1). According to another industry study, one in every three consumers purchases breakfast sausage at least once a month (2).
Gold'n Plump® chicken sausages come in four varieties:

Parmesan Italian Dinner Sausage (19 oz., 5 links per package)
Hot Italian Dinner Sausage (19 oz., 5 links per package)
Chicken Bratwurst (19 oz., 5 links per package)
Apple Maple Breakfast Links (12 oz., 14 links per package)
Now available for distribution nationwide, the new products carry suggested retail prices ranging from $4.49 to $5.99. Like others in the category, the sausages, brats and breakfast links are shipped frozen to extend shelf life, providing time to thaw in fresh meat cases. Great on the grill, in pastas, soups or sandwiches, recipes featuring the new products will be posted on goldnplump.com to highlight the convenience and versatility of the new products.
GNP Company will also provide sustained marketing support for the new products. For example, it will provide point-of-sale materials and select advertising as well as in-store demonstrations to aid consumer awareness. According to Danforth, the packaging provides price promotion opportunities and merchandising flexibility for retailers. "These fixed-weight scannable packages allow grocery stores to easily run promotions, such as 2 for $5 dollars, or cross-promote with other categories to encourage product trial. They can be placed in several spots throughout the store including in the store's chicken set, near other ground meat products, or in a secondary location near other sausages."
(1) The National Provisioner Study – June 2011
(2) Perishables Group Online Consumer Survey – March 2011
About GNP Company™
The Gold'n Plump® brand is distributed by GNP Company (formerly known as Gold'n Plump Poultry), based in St. Cloud, Minn. since 1926. GNP Company is a family-owned provider of premium chicken products to retail, deli and foodservice customers throughout the Midwest and in other parts of the country under both the Gold'n Plump® and Just BARE® brands. The company employs about 1,600 people and partners with nearly 350 family farmers in Minnesota and Wisconsin to produce wholesome, high-quality chicken. For more information on its full line of poultry products, as well as innovative recipes, general cooking and safe handling tips and nutrition information, visit http://www.goldnplump.com and http://www.justbarechicken.com.
###