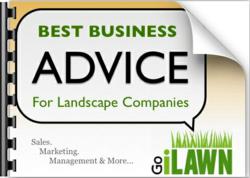 There are some inspiring quotes to motivate contractors to kick it into high gear for the New Year.
Cincinnati, OH (PRWEB) January 31, 2012
Go iLawn.com announces the release of the eBook Best Business Advice for Landscape Companies. The book is designed to bring profitable insight and sound advice to green industry professionals. A combination of quotes from green industry business owners and employees, and famous CEO's from various industries make up the 23 pages. The eBook is free and available for download here.
"We thought that releasing the book at the end of 2011/beginning of 2012 would be great timing," says Mike Rorie, CEO of Go iLawn. "There are some inspiring quotes to motivate contractors to kick it into high gear for the New Year. Plus, it is a quick read that can simply get you thinking about what to do next."
Go iLawn sent email requests to their customer base to submit quotes that have helped them in business. Some customers shared their own insight, while others passed along quotes they have heard from their mentors and other people in their lives.
"The green industry, although competitive, is a friendly place. Green industry contractors attend trade shows, get certifications and work for continuing education credits to enhance their businesses. It is a "sharing" sort of community where people want to learn and grow. So, in that spirit we wanted to share some free words of wisdom and insight to those who may be interested."
Some famous CEO's quoted in the book include Bill Gates of Microsoft, Jeffrey Immelt of General Electric and Thomas Watson Sr. of IBM.
The book is the first installment in what is planned to be a series of books released by the company. The Go iLawn team plans to distribute another eBook for their customers in the spring.
"The positive response of our customers to organizing this type of material has been exciting. We hope to release several versions of this book. With their helpful insight, we plan to share best practice advice on sales, management, marketing and more. The possibilities are endless," Rorie said.
About Go iLawn
Established in 2009 by parent company GIS Dynamics, Go iLawn.com helps lawn, landscape, snow removal, paving, and sweeping contractors measure, bid and win more business. Go iLawn is a privately held company based in Cincinnati, OH. For more information, call 800-270-6782 or visit http://www.goilawn.com.
###