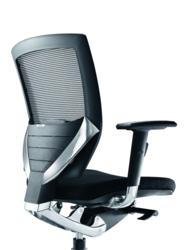 "That's another reason the Arris Chair is a valuable choice — it benefits both your employees and your bottom line."
Milwaukee, WI (PRWEB) January 31, 2012
National Business Furniture (NBF) unveiled a new collection of designer office chairs priced well below comparable chairs; effectively bringing high-end design and ergonomic comfort to the typical office. The Arris Collection, part of NBF's exclusive NBF Signature Series, offers style and comfort typically reserved for chairs that sell for twice as much.
Randy Farah, NBF Vice President of Merchandising, spoke about NBF's high-tech, affordable chair, "We're excited to be able to offer a chair that possesses style and function comparable to that of more expensive office chairs, but at a price that many businesses can afford."
In addition to craftsmanship and price, the chair's unique design sets it apart from others in the marketplace. A thin profile with swooping curves and sharp angles give the chair a stunning appearance. Adjustment levers and buttons are tucked seamlessly into the base. The frame, seat and back intermingle in an artistic convergence of chrome, mesh and upholstery.
The chair features ergonomic adjustments which allow each user a personalized fit, recommended to avoid injury, fatigue and chronic pain. "Providing suitable office furniture for employees has been proven to increase productivity and reduce healthcare claims," said Rick Wachowiak, NBF General Manager, "That's another reason the Arris Chair is a valuable choice — it benefits both your employees and your bottom line."
NBF developed its own private-label brand, NBF Signature Series, as a way to provide customers exclusive selection, distinctive quality, and exceptional value. Often, furniture selections for the series are developed as a response to customer inquiry and need. In the case of the Arris Collection, Farah happened upon the chair at a manufacturer's site and knew, "It was perfect for NBF customers."
To learn more about the Arris Collection, watch the video at http://www.NBF.com.
About National Business Furniture
National Business Furniture was founded in 1975 and is a leading provider of office furniture to large and small businesses, government institutions, healthcare facilities and educational organizations. Guided by the vision "Furniture that Works. People who Care." NBF provides exclusive products, fast shipping, expert service and a lifetime guarantee to thousands of loyal customers.
In 2006, NBF was acquired by K+K America, LLC, the leading group of business-to-business direct marketing companies in North America. For a free catalog, or to browse the complete selection of office furniture such as desks, chairs, file cabinets, bookcases and reception furniture, visit http://www.NBF.com.
# # #