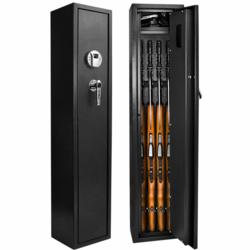 hand selected for quality and durability by our expert staff at AR-15 Scopes
La Verne, CA (PRWEB) January 31, 2012
Tactical gear experts since 1994, AR 15 Scopes carries a wide selection of products for tactical rifle scope enthusiasts. Every brand and product is hand selected for quality and durability by our expert staff at AR-15 Scopes. The new line of Barska biometric quick access safes are an ideal product for our customers. Securing firearms is the law but this can slow response times. With the quick scan of a finger Barska biometric safes allow immediate access to handguns and long rifles. Our expert staff has selected Barska Biometric safes for quality all steel design and advance fingerprint scanner. These fingerprint gun safes use the most advance optical biometrics pattern recognition technology available.
The new Barska biometric rifle safe model AX11652 is the ultimate secure quick access rifle storage system. The advanced biometric fingerprint recognition technology allows for fast secure access to firearms with the simple scan of a fingerprint. Securely store up-to four long rifles and with the removable storage shelve owners can also store ammunition, and hand guns. A removable four section rifle safe barrel holder will keeps up to 4 rifles lined up and ready for action. Weighing in at 66 lbs the Barska rifle safe will detour any would-be thief from taking off with guns or valuables.
The three point dead-bolt locking system and solid steel construction guarantee peace of mind that no unauthorized users will access the valuables stored inside. The Barska biometric finger scanning optical sensor is extremely energy efficient lasting up to two years on only 4 AA batteries. Also available in compact gun safes Barska has a model for every user.
AR 15 Scopes with corporate offices, warehouse and distribution in La Verne, CA (Southern California) is a online retail in the tactical scopes industry. AR15 Scope carries a wide selection of tactical rifle scopes, military style AR scopes, and tactical laser sights. We also produces a full range of AR 15 accessories such as AR 15 Mounts and gunsmith tools.. For more information, please call Barska at 1-909-445-8168, or visit them online at http://www.AR15Scopes.com
###