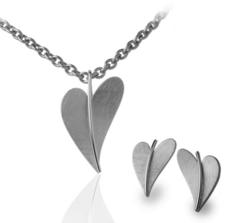 TeNo is delighted to help our customers make this special day one that they will always remember...
Las Vegas, NV (PRWEB) January 31, 2012
This Valentine's Day, take a step out of the ordinary with TeNo.com's line of unique stainless steel jewelry and designer mens watches. To assist couples in making decisions about what to get their special someone, TeNo.com offers many unique and creative jewelry for both men and women for this year's Valentine's Day holiday.
Colors can please everyone's heart. TeNo.com's color jewelry pieces highlight vivid gemstones studded in impressive designs to gift their beloved on Valentine's Day. Gemstones with the color of love (red) can be gifted in by picking out precious pink sapphires or red pearls.
TeNo.com's MemoRo Pendants are unique message capsules with screw-off tops and contain three pieces of paper where you can write a message of your choice to your Valentine.The water proof capsule unscrews to put the message in and comes with a special MemoRo box.
Not only does TeNo.com have many unique jewelry designs for women, they also have many options for men. The TeNo10 collection offers your Valentine a quality timepiece like no other. These distinctive timepieces are available in ten different dial colors and can be purchased on TeNo.com or at select fine retail stores.
TeNo.com also has many attractive and unique stainless steel cufflinks. Some have combined elements of ceramic and diamonds and all are exclusive designs.
"Valentine's Day is a wonderful time for people to show their love for one another. TeNo is delighted to help our customers make this special day one that they will always remember with a unique and treasured jewelry pieces," said Nadine Kluger, Marketing Director of TeNo.com.
To find out more about TeNo.com's unique and creative jewelry, please visit their website at TeNo.com. To become a fan of TeNo.com's Facebook page and learn more about their current contests, promotions, and communicate with other fans, please "like" them today at http://www.facebook.com/tenocom.
About TeNo.com: TeNo products are crafted by prestigious German jewelry and watch manufacturer, Heinz Schwarz, GmbH, and distributed throughout the world. TeNo uses new and progressive materials in their creations. TeNo mixes rubber and ceramics with diamonds, sapphires, gold, pearls, wood and steel to design a unique concept for a modern lifestyle, expressing elements of both tradition and innovation. TeNo jewelry and watches are made from the finest stainless steel that is free of nickel. With this successful concept, Tenology is sweeping the nation.
Media Contact:
Nadine Kluger
800-360-2586
nadine(at)teno(dot)com
http://www.teno.com
# # #