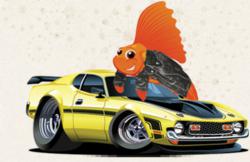 (PRWEB) January 30, 2012
Roadfish.com men's lifestyle and finance magazine announces their full support of the Internal Revenue Service during the taxpayer season, and applauds the IRS for the recent launch of their efforts to promote the Earned Income Tax Credit (EITC), a tax credit for taxpayers who make less than $49,078 annually. The Salt Lake Tribune reported today that on Monday, the IRS launched its annual outreach campaign to make taxpayers aware of the EITC, stating that the IRS predicts 1 out of every 5 taxpayers eligible for the EITC fail to collect on it.
According to the Seattle Post Intelligencer, IRS Commissioner Doug Shulman states, "The EITC provides a financial boost for millions of hard-working Americans. But people can easily overlook this important credit, especially if their financial situation has changed. The IRS reminds taxpayers to look into this valuable credit to see if they qualify."
The editor of Roadfish.com is quoted saying, "Honestly, I think it's really cool that the IRS is taking the time and effort to inform low-paid tax payers about the EITC. But I'll restate my original position, which has been and still will be that the entire IRS tax code is a big quagmire, it's a big mixed up pile of bushes and sticks, and it's way too complicated for the average American to understand. Even the attorneys who I hire to help me understand the tax code can be confused by it. What the country needs is a ridiculously simplified tax code, and the easiest way I've ever seen is to have a Consumption Tax. A straight 1% or 5% or 30% Consumption Tax would solve the whole problem."
The Kansas City Infozine highlights the IRS Volunteer Income Tax Assistance (VITA) program, which offers free tax preparation and free electronic filing for people who make less than $49,078 annually. The article states that volunteers also provide free help in determining taxpayers' EITC eligibility.
Roadfish.com's editor feels that less people would view the IRS in an "unpopular light" if honesty and integrity were more consistently upheld when filing taxes. Roadfish.com says it is hoping to help dispel the "bad guy reputation" of the IRS by promoting the useful tools and aid that the IRS is offering.
About RoadFish.com
RoadFish.com is an online men's lifestyle and finance magazine targeted toward men in their 30's and 40's that have already attained a moderate level of success in life, and are striving toward more. It goes over current events of interest to this group, such things as exciting adventures, consumer interests, and finance as well as ways to make more and save more money. It is a publication owned by Purpose Inc.
###