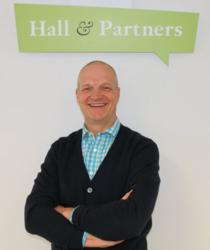 I look forward to having him lead the US towards our mission to be the most innovative boutique research agency in the world.
New York, NY (PRWEB) January 31, 2012
Specialist brand research agency Hall & Partners has hired Murray Hardie as its US CEO. The agency, that focuses on understanding how social emotion drives brand engagement, brings Hardie back to the company he introduced to the US in 1996.
Hardie's appointment is part of Hall & Partners' continued emphasis on building exceptional creative and strategic talent. With his background in communications planning, he continues the agency's heritage of hiring talented planners from the advertising and marketing industries.
He has been a leader in the brand building space for more than 20 years and has held planning director positions at Energy BBDO and Fallon, and most recently as a strategic consultant to Droga5. He was with Hall & Partners from 1993 to 2002, starting in London then moving to the US in 1996 as part of the management team that opened Hall & Partners' first US office in New York.
"We are all absolutely ecstatic that Murray has rejoined Hall & Partners in this exciting leadership role," commented Vanella Jackson, Global CEO, and to whom Hardie reports. "He is an inspirational leader with huge energy, vision, intellect and talent. He is valued and respected throughout the industry and I look forward to having him lead the US towards our mission to be the most innovative boutique research agency in the world."
"I'm utterly thrilled to be back at the agency. It's fantastic to see how the agency and its culture have thrived in the US and around the world," commented Hardie. "As an ex-planner I've always valued Hall & Partners' contribution to smart strategic thinking and I relish the opportunity to be a part of the leadership team in the next phase of the agency's dynamic growth."
Hardie will be based in the agency's New York office. Prior to Hardie's arrival, US operations were overseen by Vanella Jackson.
About Hall & Partners
Hall & Partners is a global boutique, specializing in brand engagement and communications research. Their innovative EngagerTM framework provides a new way to measure how people engage with brands and has helped revolutionize the way the advertising industry thinks about brand engagement. The framework has led to new ways of developing and evaluating brands and communication. U.S. offices are in Chicago, Los Angeles, New York and Seattle, with additional global offices in London, Melbourne, Paris, Shanghai, Singapore and Sydney. Hall & Partners is part of the Omnicom Group's Diversified Agency Services (DAS), the world's leading holding group of marketing services companies.
###