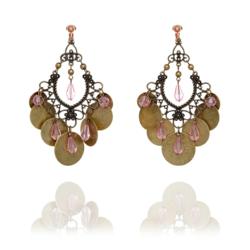 Fashion in 2012 is something amazing
Sarasota, FL (PRWEB) January 31, 2012
When it comes to different cultures, it's easy to end up talking cliches, but does fashion speak a language to all people? Online retailers and clip on earring specialists, http://www.make-me-beautiful.co.uk, set out to answer this question by reviewing trends in sales across major geographic regions during 2011.
"Fashion in 2012 is something amazing," explained Misae Richwoods of Make Me Beautiful. "On one hand globalisation has made fashion more accessible to everyone just about everywhere. Nowadays you can see the latest trends from pinnacles of fashion, like London Fashion Week, and within a few weeks you can start buying them at places like http://www.make-me-beautiful.co.uk. On the otherhand, more subcultures and genres than ever have grown up as people try to take these styles of beauty and carve into it their own identity, history and story. We wondered how the world was filtering our collections locally and were surprised at some of the answers."
Amongst the trends revealed were that the French were more than twice as likely as Americans and almost three times as likely than Brits to wear cute characters on their ears such as little animals. Germans and Australians were more than 30% more likely to wear clubwear orientated earrings than average, however of the remainder, Australian women were four times as likely to wearing danglling chandeliers earrings than their Germanic peers, who had a large leanining towards studs, buttons and other 'on the lobe' style earrings.
"One trend we noticed across all segments of our collection was that American women love it big," spoke Richwoods. "Whether it was classics like pearl earrings, standard geometrics like hoop earrings or trend led like chandeliers, American women were more likely to be making a massive statement than anywhere else in the world. Are American women just taller? Or are they just bolder of spirit? Either way we love them!"
###