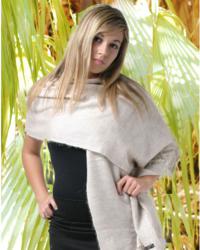 Live in style wearing handcrafted artisan sterling silver jewelry and hand-woven artisan cashmere shawls from the enchanted Kingdom of Nepal.
Phoenix, AZ (PRWEB) January 31, 2012
Valentine's Day is a day of showing love, friendship or just even a simple caring gesture with unique gifts. Roses and chocolates will never go out of style but the thought will soon be forgotten. Cashmere from KVS Pasal is not only a luxurious gift but it's a gift that will keep the thought alive throughout the years. Wrapping your Valentine in a luxurious handwoven cashmere scarf or shawl from KVS Pasal will be the perfect gift that will long be remembered.
KVS Pasal, is the foremost online source for unique cashmere apparel imported from Nepal. The cashmere is handwoven using skills and techniques passed down from generation to generation. Since every fiber is hand spun, the irregular yarn adds intriguing texture and pattern to these beautiful works of art. The craftsmen and women use only natural fibers like cashmere, silk, modal, linen and fine wool, making for truly superior clothing items. This collection is of the finest quality and perfect for the women who wants to embrace and express her individual style.
"Cashmere scarves and shawls are just a small sample of the unparalleled products available from KVS Pasal. All of our products, whether jewelry or clothing items, are handcrafted and designed individually by craftsmen and women and are therefore unique," says Victoria Vacala, the owner of the company. Having lived side by side with these artisans over the years, Victoria is constantly awed that the techniques these artists use have been passed down through their family hundreds of years. "I feel such a sense of tradition when watching them. And because these artisan live in a different part of the world, they have access to raw materials that are not as readily accessible in America. That means our KVS Pasal clients also have access to unique items at reasonable prices," says Victoria.
About KVS Pasal
Founded in 2006, KVS Pasal is a Phoenix, AZ area based business with an online presence at kvspasal.com. Products are also available in various boutiques throughout the USA. Also, KVS Pasal can be found on Facebook.
###