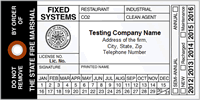 Brooklyn, NY (PRWEB) January 31, 2012
FireExtinguisherTag.com, known for carrying top fire safety products, is announcing a new line of custom Fire Inspection Tags for fire sprinklers. These tags are essential to any fire sprinkler system and are necessities for a fire emergency.
Fire Inspection tags are handy and long-lasting records of inspections for sprinkler systems. FireExtinguisherTag's inspection tag series can be used for a variety of sprinkler systems, for those that use a 'wet' system, a 'dry' system, deluge valves, or anti-freeze. The factor that makes these fire inspection tags stand out is their unique custom wizard. Buyers can put their own individual stamp on the tag of their choice.
After selecting a tag, purchasers can create their own personal tags for fire inspection in seconds. A text wizard allows fire safety inspectors to put in the information of the testing company such as their name, address, and license number. The font size and style are easy to adjust thanks to the style buttons. Additionally, people can select the year of inspections and future inspections until at least the year 2020. Other areas on the tag let the user print and sign their name, pick out the month of their inspection, and select the type of fire equipment that applies to the tag.
Aside from personalization, shoppers should be able to find the exact tag they want. The tags range from messages such as System Status Inspection to Do Not Remove by the Order of State Marshal. Special tags include tags that comply with inspection standards for the state of California, Texas, and Florida. FireExtinguisherTag recommends that customers to check with local authorities to ensure tags are up to the latest specifications.
The composition of these fire inspection tags guarantees reliability. The material used for the tags is durable 8 millimeter-thick Tyvek. They are tear-resistant, reusable, and waterproof, ideal for inside or outside. Customers can upload their own artwork or have professionals tweak the design at no extra cost.
The Fire Inspection Tags for Sprinklers is just part of the expansive selection of FireExtinguisherTag.com. For more information, visit http://www.fireextinguishertag.com/fet/fire-sprinkler-inspection-tags.aspx
About FireExtinguisherTag.com
FireExtinguisherTag is the distributor of safety items for fire emergencies. Customers can find glow-in-the-dark, bilingual, projecting, and directional tags in the store's massive selection. Customizable tags allow users to keep a personal record.
About SmartSign
SmartSign is one of America's fastest growing e-commerce companies and parent of http://www.FireExtinguisherTag.com, http://www.MyParkingSign.com, as well as over 50 other sites. Traditionally, signs with the right message have been hard-to-find, hard-to-design and hard-to-order. By positioning "Signs as Solutions", SmartSign has taken an entirely different approach. Through highly targeted, yet content-rich and authoritative sites, the company provides specific solutions to specific problems – such as keeping your fire safety system up-to-date. "We take the agony out of finding and ordering your perfect sign" – Blair Brewster, SmartSign founder. Couple this with fast and free shipping, 3M warrantied signs that outlast fast-fading ink jet signs from competitors, the web's largest range of designs and a best price guarantee, it is easy to see why SmartSign has grown so quickly.
# # #