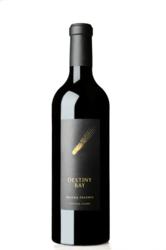 Magna Praemia is the Lafite of New Zealand
WAIHEKE ISLAND, New Zealand (PRWEB) January 31, 2012
Destiny Bay Vineyards reported today that Chinese wine distributors, buoyed by praise comparing Magna Praemia to first growth French Bordeaux wines, have purchased all of the remaining 2004 vintage Magna Praemia Cabernet blend and have begun negotiations for the remaining 2005 vintage. Chinese wine critic, Frank Li, in a front page article for the Oriental Weekly, a Chinese language newspaper in Auckland, confirmed reports that Bordeaux collectors in China were referring to Magna Praemia as the "Lafite of New Zealand."
"This is not the first time our Magna Praemia blend has been favorably ranked with First Growth Bordeaux wines," said Mike Spratt, co-founder of Destiny Bay Vineyards. "Several months ago Gerard Basset, an internationally recognized Master of Wine and holder of four U.K. and European Best Sommelier titles, including World's Best Sommelier, visited the vineyard and methodically tasted Destiny Bay's 2006, 2007 and 2008 vintages. Praising Magna Praemia, Mr. Basset said that in a blind tasting he would have identified the 2006 as an elegant Left Bank Bordeaux, the 2007 as a fine First Growth Bordeaux and the 2008 as a top Super Tuscan."
"Chinese collectors had been visiting and quietly acquiring our Mystae and Magna Praemia blends throughout 2011," said Brett Taylor, Destiny Bay's Director of Global Distribution. "Shortly after the Oriental Weekly article appeared, Chinese distributors began scheduling visits to the vineyard. All of the remaining 2004 vintage of both Magna Praemia and Mystae were quickly sold to China from both our New Zealand and the United States warehouses. This was followed by non-exclusive distribution partnerships in Shanghai with Shanghai HOCRES LTD and in Guangzhou with Kiwi Wines."
"2011 has been a year of critical praise for Destiny Bay Vineyards," stated Mark Feldman, owner of Destiny Bay Wine Imports in the U.S. "The December 2011 issue of The Tasting Panel magazine for the wine and spirits industry selected Destiny Bay's 2007 Mystae for the list of Most Outstanding Wines and Spirits of the Year and singled out Destiny Bay 2007 Magna Praemia as the 'Most Sophisticated.' Top experts, including Anthony Dias Blue, The Editor in Chief of The Tasting Panel have rated multiple vintages of these wines in the 90's with a recent rating of 98 points for the 2007 Magna Praemia."
About Destiny Bay Vineyards
Destiny Bay is a small, single vineyard, family-owned winery on Waiheke Island, New Zealand that specializes in estate grown and bottled blends of Cabernet Sauvignon, Merlot, Cabernet Franc, Malbec and Petit Verdot. Destiny Bay produces fewer than 2,500 cases per year of their three distinct blends, Magna Praemia, Mystae and Destinae. Destiny Bay is Waiheke Island's first fully certified Sustainable Winery & Vineyard (SWNZ).
About Gerard Basset
Gerard Basset is the only person ever to have completed the triple qualifications of Master of Wine, Master Sommelier, and MBA (Wine), and he has won almost every major sommelier award in the world, including the World's Best Sommelier Competition in Santiago, Chile last year. Born and raised in France, Basset relocated to the United Kingdom where he has trained a generation of sommeliers at Hotel du Vin and his current hotel, the boutique TerraVina in New Forest, near Southampton. Basset serves as the Worldwide Vice President at the Court of Master Sommeliers and is Director of the Academy of Food and Wine Service. This year, he was appointed Officer of the Order of the British Empire (OBE) in the 2011 Queen's Birthday Honours for services to the hospitality industry.
About Anthony Dias Blue
Anthony Dias Blue is the Editor in Chief of The Tasting Panel (Est. 1941), former Wine & Spirits Editor of Bon Appetit Magazine, and Executive Director for the San Francisco Wine and Spirits competition, the largest and most influential international spirits judging event held in the United States on an annual basis. Mr. Blue is the recipient of a 2001 James Beard Foundation Award as well as the 1997 Communicator of the Year Award from the prestigious International Wine & Spirits Competition in London. He is one of the most influential food and wine personalities in the United States. His work in various media is circulated to more than 30 million global consumers and trade members each month. He can be found in print periodicals, on radio in New York and Los Angeles ("Blue Lifestyle Minute"), in bookstores and online.
Trademarks
Destiny Bay, the Comet, Magna Praemia, Mystae, Destinae and Dulce Suavi are registered trademarks of Destiny Bay Vineyards Ltd. Other names may be trademarks of their respective owners.
###