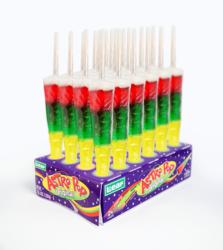 We absolutely wanted to make sure that everything – from the wax, wrapper, stick, texture, taste, color and printing were identical and indeed the same Astro Pops® we all loved as kids! It was great to get feedback from true fans.
Irvine, CA (PRWEB) January 31, 2012
Leaf Brands, LLC, manufacturers of the iconic candy rocket-shaped lollipop, Astro Pops®, is using social media to not only build word-of-mouth marketing, but to also incorporate market research to socially engage with the thousands of fans who are anxiously awaiting for the first Astro Pops® shipment after an eight year hiatus in the marketplace. As part of the strategy to generate the excitement behind the launch, earlier this month, Leaf Brands asked its almost 9,000 fans on their Facebook page to tell their personal stories of why Astro Pops® were so important to them.
Astro Pops® was already known as the longest lasting lollipop on earth when the previous manufacturer, Spangler Candy, discontinued the product line in 2004. When Leaf Brands bought the brand rights, they wanted to make sure the new Astro Pop® was exactly the way people remembered, so they turned to social media to tap into the large loyal fan base for the iconic candy. According to Leaf Brands CEO Ellia Kassoff, "When we first announced we were bringing Astro Pops® back to the marketplace, loyal fans nostalgic for the candy, reinforced the importance of bringing back the original formula and shape. We worked hard over the last year to ensure we made the product EXACTLY the way everyone remembered, and wanted to have the fans take part in the product development process."
The most compelling 25 fan stories were to be chosen as the initial samplers for the first batch of Astro Pops® and each person would have to provide a full evaluation of the sample. "We ended up sending out 50 test samples, since there were so many amazing entries and received 100 percent of the evaluations back, simply unheard of with typical marketing programs!" Kassoff noted.
"We absolutely wanted to make sure that everything – from the wax, wrapper, stick, texture, taste, color and printing were identical and indeed the same Astro Pops® we all loved as kids!" says Kassoff. "It was great to get feedback from true fans, and also hear why it was their favorite candy." Hundreds of fans submitted personal stories of childhood memories related to Astro Pops®, many very moving and indicative of why Astro Pops® is an iconic and loved candy brand. "It really proves how powerful a piece of candy can be," said Kassoff. "Some of the stories actually were really quite emotional."
"It's like being transported to our younger days, I have been waiting over 2 years for you to release the Astro Pops® again. I'm still in absolute excitement and my husband is going bonkers," were just a few of the fan comments. "Another fan's story really choked us up. It was about her dad giving an Astro Pop® to both her and her brother every Friday growing-up, if their grades were good and they behaved. She went on to say how sad she was when Astro Pops® ceased production. Then, on her wedding day, her father presented her with a box with an Astro Pop® in it. Apparently he had saved it just for the occasion. He told her, it was her gift for being such a great daughter and for marrying such a great husband. We were all teary-eyed after that story," Kassoff says.
People look for nostalgic brands that bring them back to their childhood and Astro Pops® is one of those brands people remember, and want to share the experience with their children. "Facebook is a wonderful tool to converse with our consumer directly," says Kassoff. In return for their loyalty, Leaf plans to give all fans on Facebook, the first opportunity in the world to buy two full cases of Astro Pops® at the pre-release (VIP) discount. "They are the 'die-hard' fans and we want to reward them for helping us and being so patient. It isn't just part of our social media strategy, but a way we can engage with our customers, fans, and even critics. We love the connection, and as the keeper of the Astro Pops®, we want to make sure we get it right," Kassoff explained.
Leaf is also expanding the Astro Pops® line of products to help generate excitement behind this loved candy brand. In addition to the re-launch of Astro Pops® in its three original flavors of passion fruit, cherry, and pineapple, the other new launches that expanded the Astro Pops® franchise include a Giant Astro Pop®, sodas which feature the Astro Pop® flavors in refreshing soft drink flavors, and shortly, the release of Astro Pop® Asteroids™, bite-sized pieces of the classic Astro Pop® lollipop.
About Leaf Brands, LLC: The original LEAF Brands were started in the 1920's. LEAF Brands, once the fourth largest candy producer in North America, produced candy classics such as Whoppers®, Jolly Rancher® and Rain Blo Bubblegum®. Family members have acquired the LEAF brand name for the US and assembled together to revive the Leaf name and its famous image after Hershey® Foods Corporation acquired the Leaf North American confectionery operations from Huhtamäki Oy in 1996. Products include Astro Pops®, Yummers!™, Farts™ and David's Signature Beyond Gourmet™ products.
###