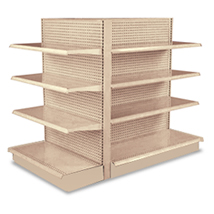 Built-in levelers and snap-together parts make installation simple while yielding an exceptional load capacity.
Des Plaines, IL (PRWEB) January 31, 2012
Specialty Store Services is pleased to offer the newly redesigned, economical, durable and attractive Ultima Gondola Fixtures to its customers. Gondola Fixtures are ideal for merchandising in a variety of retail environments including grocery, convenience, discount and variety stores.
The new Ultima Gondola Displays feature heavy gauge steel construction and steel uprights that are slotted one inch on center for convenient shelf placement, and boast steel pegboard backs rather than hardboard pegboard backs. Built-in levelers and snap-together parts make installation simple while yielding an exceptional load capacity. Ultima Gondola fixtures, available double-sided, single-sided and as end-caps, can be configured into many different displays to fit multiple merchandising needs. The Gondola Fixtures, in a pleasant neutral beige color, are available 54", 60", 72" and 84" high.
Double-sided Gondola Fixtures, 48" wide aisle units that allow retailers to create well-designed and functional displays, are the building blocks of any effective gondola display. One-sided wall units make the most of existing wall space while end caps give a finished look to double-sided gondola fixtures and maximize display space. Starters and add-ons can be connected end to end to meet space and layout requirements.
Ultima Gondola shelves, sold separately, are strong and versatile. Each shelf has slim, sturdy, dual-position steel brackets that allow the shelf to be used straight or at a 20 degree angle, ideal for creating multiple merchandising arrangements. Gondola accessories such as peg hooks and baskets can be use to capitalize on display space and to cross-merchandise effectively.
The newly redesigned Ultima Gondola Fixtures are now available on the Specialty Stores Services website and will also be featured in the new product catalog to be distributed in February 2012.
About Specialty Store Services
Specialty Store Services, a second-generation family owned business, offers everything necessary to operate a thriving retail store, from logistical solutions and retail supplies to custom and stock fixtures. Over the last 25 years this service-driven company has cultivated relationships with global partners while developing the expertise and knowledge required to provide competitive prices, outstanding customer service and quality products.
# # #