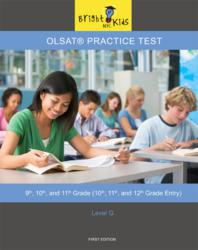 "Understanding the types of questions on the OLSAT® is invaluable. It is a tricky test with content students have never seen before."
New York, NY (PRWEB) January 31, 2012
The demand for a spot in a Gifted and Talented program is higher than ever, especially with rising private school tuition and overcrowding in public school programs. Many families are seeking to prepare their children with either tutoring or test preparation materials. However, it can be overwhelming trying to determine how to begin this process. Practicing for the OLSAT® Level G exam with the right material is imperative. As one Gifted and Talented high school teacher stated, "Understanding the types of questions on the OLSAT® is invaluable. It is a tricky test with content students have never seen before."
Bright Kids NYC takes the guesswork out of this process. As a comprehensive tutoring and publishing company that specializes in Gifted and Talented entry, Bright Kids now has a complete series of OLSAT® Practice Tests (Levels A-G Kindergarten through 12th Grade) to aid parents in their child's test preparation. The OLSAT® Level G Practice Test is the perfect aid to ensure your child is ready for his/her 10th-12th Grade Entry exam.
The latest version of the Otis-Lennon School Ability Test® (OLSAT®8), is a multiple choice "school ability" test that is administered throughout the United States for placement into various Gifted and Talented programs. Students who work through the OLSAT® Level G Practice Test will understand the format of this exam, as well as familiarize themselves with the types of questions they need to practice before test day. Students that prepare with this book will feel more confident and less stressed, allowing them to perform to the best of their ability.
Reasonably priced with an easy to understand layout, Bright Kids NYC's OLSAT® Level G Practice Test offers 77 practice questions, spread across all fifteen OLSAT® subtests. The book includes a section that explains the content and format of the test, with a description of each subtest. It also includes guidelines, tips, and an answer key that includes detailed explanations on how to solve each problem.
To learn more, or to purchase the OLSAT® Level G Practice Test, visit http://www.BrightKidsNYC.com.
About Bright Kids NYC: Bright Kids NYC Inc. was founded in New York City to educate parents about standardized tests through workshops and consultations and to prepare young children for such tests through assessments, tutoring, and publications. Our philosophy is that regardless of age, test taking is a skill that can be acquired and mastered through practice.
###