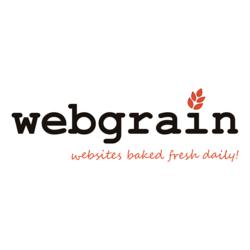 We are glad to have Mike onboard to help streamline our website development process. We grew a lot in 2011 and with another great writer on staff, we can really help our clients with content
Billings, MT (PRWEB) January 31, 2012
Today, Webgrain Inc. is proud to announce an addition to our company. Mike Ohman is joining Webgrain as a partner and Web Services Content Manager.
Whether it is research, copywriting assistance, video scripts or a new blog post, Mr. Ohman develops content for Webgrain customers on a daily basis. Helping thier clients keep the information on websites fresh and up-to-date is one of his main goals.
"We grew a lot in 2011 and with another great writer on staff, we can continue to assist clients with content. We are glad to have Mike onboard to help streamline our website development process," stated Nick Britton, founder and Lead Web and Application Developer.
Search engine results and deadlines are always top-of-mind when he is researching and writing. He works diligently to provide accurate and creative content. Supported by solid education in business with a B.A. in Business with a focus on Marketing from Montana State University, Mr. Ohman also brings over 7 years of digital content experience to Webgrain.
About Webgrain Inc.
Founded in 2010 with offices in Billings and Bozeman Montana, Webgrain is a full service web design, database development, e-commerce solution and website hosting company. Webgrain grew rapidly by providing custom solutions for their clients and now has clients across the nation. Customers range from Fortune 500 customers and government projects to small local businesses.
An experienced group of web developers, database programmers, designers, copywriters and project managers have all joined together to ensure that every project gets the attention to detail required for visitors to the site and optimum functionality behind the scenes.
A specialty for Webgrain in online directories, which is evident in their local partner project called billings365.com. The popular directory is a supported by local bloggers and local advertisers, it features events, dining, movies, music, nightlife, lifestyle, and recreation content for the Billings, Montana area.
Thriving on the mix of businesses, the Webgrain team takes their projects from the sprout of an idea to fruition. Webgrain provides custom solutions that achieve any sized organization's specific goals- whether it is to inform, sell, or better service customers.
###