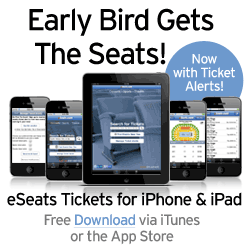 Getting 50 yard line seats to see my childhood team play in the Super Bowl has always been a dream of mine.
Scottsdale, Arizona (PRWEB) January 31, 2012
These choice Super Bowl tickets sold for just over $17,000.00 per ticket and were located in the first row on the visitor side of the field near the 50 yard-line. When we asked our supplier how good these seats were, they commented, "any closer and your client will have to put a jersey on." eSeats CEO Bob Bernstein said, "the client wanted to get as close to the action as possible, and these were the best tickets available to get the job done."
In contrast to these very expensive 50 yard-line tickets, "get in" tickets for the big game are now selling at just over $2,500 each on the eSeats.com website, proving there's a ticket for just about everyone's budget.
The growing concern over fake or counterfeit tickets has led many customers away from popular ticket sites which source their tickets from independent sellers and over to eSeats.com. eSeats.com has built a solid reputation thanks in part to their strict adherence to only sourcing tickets from professionally licensed ticket resellers who are members of the NATB. For this reason, eSeats.com has become a fan favorite when seeking the big tickets to the major championships.
In addition to Super Bowl Tickets, eSeats is helping fans secure pre-game party event passes and tickets to tailgating events such as the Official NFL Experience or the Pepsi Super Bowl Fan Jam.
About eSeats.com: Since 2001, has helped thousands of discriminating fans secure tickets to events worldwide. eSeats.com has an A+ Rating with the BBB and is a long standing member of the National Association of Ticket Brokers. In addition to the Super Bowl tickets, eSeats sells event tickets to all major sporting events including the 2012 London Summer Olympics, Kentucky Derby at Churchill Downs, NHL, NBA, MLB and all major concert tours such as Bruce Springsteen, Van Halen, Coldplay and many others. For mobile users, eSeats has the #1 mobile ticketing apps for the Apple iPhone and iPad called eSeats Tickets.
# # #