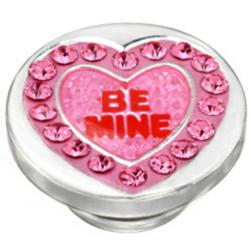 A Silver Breeze is also extending its Kameleon JewelPop contest
New York, NY (PRWEB) January 31, 2012
With Valentine's Day around the corner, A Silver Breeze has launched the new Kameleon Collection, and the Kameleon LovePop Collection. The Kameleon LovePops have the same characteristics as the JewelPops, but come in various colors and themes for Valentine's Day. The LovePops can be interchanged with a wide range of jewelry to add a stylish and classy pop of color. They make the perfect Valentines gift for that special someone in your life.
A Silver Breeze has also launched the new Kameleon Collection. The collection comprises of JewelPops, watches, rings, and great new pendants. This season's Kameleon Collection is filled with bright bursts of color, sparkle, and shine. Taking the best of the classic Kameleon inspirations, and adding bold and beautiful colors make the new Kameleon collection fun and unique. And of course, all the Kameleon jewelry is interchangeable, so you can enjoy wearing your jewelry however you like, whenever you like.
A Silver Breeze is also extending its Kameleon JewelPop contest. Between January 15 and March 30, 2012, six Kameleon JewelPops and pendants (valued at US$70.00) will be drawn every two weeks, at the Wilton Mall location. All contestants must be registered to the A Silver Breeze newsletter and subscribed by midnight the day before the draw in order to be eligible for the contest. The winner's names will be posted on the Silver Breeze Facebook page. For further contest rules and regulations please visit the A Silver Breeze website at: http://www.asilverbreeze.com.
All Collections available from A Silver Breeze, including the new Kameleon Collections and Kameleon LovePops are available in store and online at: http://www.asilverbreeze.com.
About A Silver Breeze
A Silver Breeze was founded with a philosophy in mind: give women the freedom to be themselves and embrace a sense of style that's unique to each woman. A Silver Breeze offers women quality sterling silver jewelry that is interchangeable, like the Chamilia, Miss Chamilia, Bijoulee, Chamilia Soho, Quarter 1, and the new Kameleon collections.
Stores are located at the Aviation Mall in Queensbury, New York, at the Wilton Mall in Saratoga, New York, and online at: http://www.asilverbreeze.com. Be sure to browse the online store to see all the available collections. Free shipping is available anywhere in the USA. A Silver Breeze ensures every customer's shopping experience will be an unforgettable one.
###