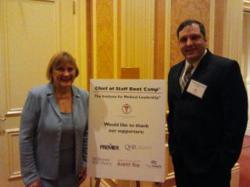 Kennesaw, GA (PRWEB) January 31, 2012
RazorInsights, an innovative leader in clinical information technology, will again be sponsoring the Chief of Staff Boot Camp being held February 24-26 at the Ritz-Carlton in Marina del Rey, California. The program, now in its ninth year, is directed by The Institute for Medical Leadership and focuses on building strong clinician/hospital relations, as well as providing physicians and hospital executives with informative educational segments addressing the many challenges they often encounter. Recent discourses include quality improvement and patient safety.
"We are thrilled to be supporting such a terrific program – with a mission, like ours, aimed at helping organizations provide the highest quality health care available," said Edward Nall, CEO of RazorInsights. "We're looking forward to meeting the attending physicians and hospital leaders in this beautiful location, and having the opportunity to introduce them to our single-database healthcare technology system, ONE-Enterprise HIS Solution."
RazorInsights has been a Chief of Staff Boot Camp sponsor since 2010, holding in high regard the leadership of organizing director Dr. Susan Reynolds, MD, Ph.D. "We are very pleased to welcome RazorInsights back as a returning sponsor of our Chief of Staff Boot Camp programs. Our attendees have expressed a high level of interest in RazorInsights' unique products and services, and we value our partnership with them. Their on-site demonstrations at our programs are always a big hit and provide much needed information to participants," she said.
For more information regarding this conference or any future conferences, call The Institute for Medical Leadership at 800-361-5321 or visit http://www.medleadership.com/chiefofstaff.
About The Institute for Medical Leadership:
Founded by Dr. Susan Reynolds, MD, PhD, The Institute for Medical Leadership is led by highly-regarded experts in the healthcare industry. Its programs teach executives and physician leaders the discipline and critical thinking needed to initiate collaborative, patient-centered solutions that will transform their organizations.
About RazorInsights:
Based in Kennesaw, Georgia (in the metro Atlanta area), RazorInsights is a new, dynamic healthcare information technology company. In keeping with the principle of Occam's Razor, they have created a simplified HIS solution for Rural and Critical Access hospitals. Introducing ONE (ONC-ATCB 2011/2012) -- a single-database, cloud-solution offering a simple user experience with cutting-edge clinical tools and industry-standardized data. Hospitals can expect to improve their performance and bottom line with ONE from RazorInsights. To register for a live product demo or for more information, visit http://www.razorinsights.com or call 770-308-4111.
###