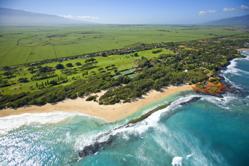 The Club is casual & the members are friendly; all we do is create the opportunity to get them together. Once that happens, the fun begins!
Paia, Maui, Hawaii (PRWEB) January 31, 2012
At Maui Country Club there are so many opportunities to enjoy. Golf and tennis, swimming in the pool or at Baby Beach, taking a Pilates class or having a workout in the gym are obvious choices; but there is a whole lot more going on at the Club beyond what can be easily seen.
Volleyball Club
The Club has the volleyball net up daily, but the Volleyball Club meets on the first Saturday of each month at 3:30 p.m. for matches followed by a potluck BBQ at the picnic area next to the grass court. Members & guests of all ages are welcome.
Wine Club
The Wine Club tastings are always a sellout. Paired with an excellent menu of appetizers, this interactive event allows for members and guests to enjoy exploring food and wine in a casual and fun atmosphere.
On Thursday, February 16 the Wine Club is hosting a comparison of unique wines from Oregon vs. those from the California Central Coast in the Clubhouse restaurant from 5-7 p.m. Chef Wayne has developed delicious pairings for the selections by Sandwich Isles Cellars.
Book Club
This group meets over cocktails in the Clubhouse at 5:00 p.m. on the second Tuesday of each month. Their February selection is "The Tiger's Wife" by Tea Obreht.
Kanikapila Club
This club is for lovers of Hawaiian music, whether or not you play. Members & friends gather on the last Saturday of each month in the Clubhouse at 4:00 p.m. with their ukulele, guitar and music for an informal jam session.
Ballroom Dance Club
Since its inception in the fall, the Dance Club has mastered the East Coast Swing and is progressing to the Foxtrot when they reconvene in March. Member & veteran instructor Gretchen Voxland is teaching in the Club Ballroom and all are welcome at the bargain cost of just $5 per person.
View the Special Events page of the Club website for more information.
About Maui Country Club:
Maui Country Club is located in Hawaii and is an icon on the North Shore of Maui at Spreckelsville. The 66-acre non-profit private club was founded in 1925 by H.W. Rice and F. F. Baldwin, together with the 46 member Maui Golf Association. The Club offers members a golf course and Pro Shop, six tennis courts, fitness center, private beach access, a swimming pool and pavilion. The new clubhouse has men's & women's locker rooms, a bar, lounge and restaurant, a ballroom for private functions, as well as a snack bar and outdoor lanai for dining. A variety of fitness classes, lessons, and social events geared toward members of all ages complete the package that makes this the place where friends and family come to play.
# # #