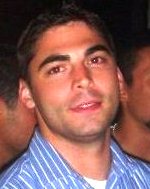 Nick comes with invaluable experience and unstoppable creativity that sets him apart in the advertising world and we look forward to the launch of First Impression in April
West Hollywood, CA (PRWEB) January 31, 2012
engage:BDR, a leading online display advertising network and top ad serving technology, proudly announces Nick Lynch as Vice President of Platforms. Lynch was previously a Senior Account Manager at Fox Interactive Media and has worked for engage:BDR for a year as Senior Business Development Manager before being promoted to VP of Platforms. He has helped build advertising opportunities for engage:BDR brands including HAHAJK.com and the new entegrate! Branded Entertainment division.
Lynch has over 10 years of experience as a senior business executive, developing business relationships, managing operations, growing revenue and executing initiatives in the digital and online marketing industries for multiple start-up companies.
Lynch will manage First Impression, a real-time bidding (RTB) self-serve display platform that focuses on the Direct Response advertiser.
Lynch commented, "It's time to shake up the media buying world. With First Impression advertisers can buy both online and mobile media and can even manage their accounts on-the-go with our mobile app. I'm excited to bring First Impression to our clients."
The First Impression platform lets advertisers test campaigns on engage:BDR's exchange traf¬fic, scale on engage:BDR's premium inventory and expand their campaigns into mobile. First Impression is a platform that empowers performance advertisers to easily measure success and grow campaigns quickly and ef¬ficiently. By leveraging real time buying, it gives a media buyer the full control to maximize the value of an impression.
President of engage:BDR Ted Dhanik said, "We're excited to have Nick managing our new platforms as we expand our client base and company. Nick comes with invaluable experience and unstoppable creativity that sets him apart in the advertising world and we look forward to the launch of First Impression in April."
About engage:BDR
engage:BDR is a brand and direct response top 25 comScore beaconed international display network reaching 172mm monthly uniques per Quantcast. We specialize in branded and non-branded performance campaigns exclusively on display media.
About First Impression
To learn more about how you can choose your own ad traffic, visit http://www.first-impression.com. Join First Impression on Facebook at: facebook.com/1stimpRTB and Twitter at twitter.com/1stimpRTB.
###