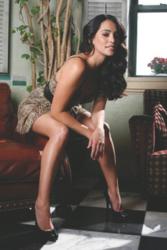 I'm a big foodie, I also like to find little hole in the wall [places.]"
Los Angeles, CA (PRWEB) January 31, 2012
In this issue of Haute Living Los Angeles, actress Natalie Martinez takes readers for a walk in her shoes, shoes that are usually flanked by her two pups Nola and Moose.
And that's just how Martinez likes to start her day. "[I] wake up to my dogs Moose and Nola. We all eat breakfast. I'll usually make breakfast but if I'm in a hurry, I'll grab a smoothie," she says.
A strong start to the day is important to Martinez, whose glowing resume shows all the signs of a talented hardworking woman. The starlet's past roles have included Broken City with Mark Wahlberg and Russell Crowe and End of Watch alongside Jake Gyllenhaal, Anna Kendrick and Michael Peña. And there's no sign of her slowing down; last year, Martinez played the lead role in Magic City Memoirs, a 2011 Miami International Film Festival selection.
It's no wonder Martinez spends most of her afternoons reading and rehearsing. Mid-afternoon, Martinez tells readers she "[Goes] home to let dogs out, or take them for a walk. At this point of the day, I'm relaxed after working out and the dogs are relaxed after their walk, so if I have any scripts to read or emails/work to do, this is when I get to it."
Her canine friends and her career aren't the only things Martinez is passionate about, though. "I'm a sushi fanatic. Usually I'll meet a friend for lunch or I go to one of my regular spots on my own. But after a good workout, it's what I always crave," she says.
Beautiful, busy and accomplished, the Cuban-American actress is funny, too. She says of her nighttime ritual, "I'll probably be cooking at this time, but I also go out to eat often–and it's usually sushi again for dinner. You thought I was kidding about sushi, huh? Look at my credit card statement. My other obsession is Korean barbecue. I'm a big foodie, I also like to find little hole in the wall [places]."
About Haute Living Magazine
Haute Living Magazine is a national luxury lifestyle magazine published in four markets—New York, Miami, Los Angeles and San Francisco. The book features the top entrepreneurs, businesspeople and notables in each market and highlights the best in luxury consumer goods, culinary hot spots and events. HauteLiving.com recently underwent an upgrade while Haute Time (http://www.hautetime.com) and Haute 100 (http://www.haute100.com) websites were re-launched, providing readers with upscale resources on the swankest parties, timepieces and individuals.
For more information, please visit: http://www.hauteliving.com
# # #