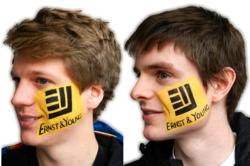 being a student/graduate is tougher than ever before, but there are certainly creative ways to overcome obstacles
(PRWEB UK) 31 January 2012
Since the global financial crisis of late 2000s, the graduate job climate has been at its most hostile in decades, with an average of 83 applicants per job (Association of Graduate Recruiters, 2011). It's a time to get competitive, or get creative, as two Cambridge graduates are demonstrating by selling advertising space on their faces. From 1st February, the pair are inviting students and graduates from around the world to join this unorthodox marketing initiative.
Ross Harper and Ed Moyse, 22, founded BuyMyFace.com as a means of paying off their student debt. Having started this unusual viral marketing venture in October 2011, the boys are already £25,000 closer to paying off their student debt, and have been sent skiing and skydiving too. Owing to the popularity of Buy My Face amongst the 18-25 demographic, this unusual idea has captured the attention of many graduate recruiters, and recently overall website sponsorship has been claimed by Ernst & Young, one of the world's leading accountancy firms.
The boys are looking to the future, as the new year brings in new ideas for this growing business. As well as an online game featuring the companies who've bought the boys' faces, Ross and Ed will be joined by students from around the world in painting their faces to pay off their university debt.
"Since appearing on Russell Howard's Good News, we've been flooded with emails from people wanting to join our project. Some of them want to make a statement about the graduate job recession, some want to overcome the rise in university tuition fees, and some just think it looks like a fun way to pay off your student debt" (Ed Moyse).
"Until now, we've put requests to join our project on hold, because the story of two graduates with a wacky idea was very important. Now that lots of people have heard of us, we want to involve more people to show that being a student/graduate is tougher than ever before, but there are certainly creative ways to overcome obstacles" (Ross Harper).
Ross and Ed are searching for the brightest young minds with a penchant for something out of the ordinary. Their website says that applicants are required to have a face, but dry wit and devilish good looks are a bonus. Strangely, face-painting experience is not required.
"Neither Ross nor I had face-painted before, and that's partly what made our whole idea so ridiculous. Our venture works because people are talking about the face-ads, so advertisers want in" (Ed Moyse).
"We've had a lot of positive feedback from advertisers in 2011, and 2012 is looking incredibly promising from an advertiser's point of view. Buy My Face will remain an Internet-based advertising project, and new recruits will be selected from specific geographical areas to ensure face-ads are well-targeted" (Ross Harper).
Thomas Watling, 20, whose official job title is "Thomas the Tech Engine", is responsible for designing and programming BuyMyFace.com. Alongside studying Materials Science at the University of Cambridge, he's taken on the job of building a website that would typically be assigned to a full-time team of web-developers.
"The website is being adapted to accommodate the new faces for 2012. Since university fees have risen, we're expecting a lot of students contacting us to become part of Buy My Face, and contrary to popular belief, they don't have endless amounts of free time. We're automating everything possible so that student recruits still have plenty of time to study… and party" (Thomas Watling)
###