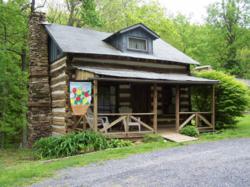 Imagine being greeted by the soulful sounds of romantic love songs.
Waynesboro, VA (PRWEB) January 31, 2012
Valentine's Day is right around the corner. And even though it is important to show someone just how much they are loved all year round, this special day is the perfect time for a romantic cabin getaway.
Just in time for the holiday, Cabin Creekwood introduces their Romance Homerun Package. Imaging opening the door into a fully furnished private mountain cabin and being greeted by the soulful sound of Michael O'Brien crooning his romantic love songs. Imagine stepping into the living room and seeing the fireplace already crackling. Imagine sharing chocolate fondue together in front of the fire. All of these, and more are a part of the Romance Homerun Package. In addition to the items already mentioned, Cabin Creekwood also provides candles, a bottle of wine, flowers, massage oils, and a framed photo of the couple. And the Michael O'Brien CD is theirs to keep.
To purchase the Romance Homerun Package or find out more information, visit their website at http://www.cabincreekwood.com, or call them toll free at 888-942-2246.
And if the timing isn't right for a getaway, Cabin Creekwood offers gift certificates in any dollar amount.
###