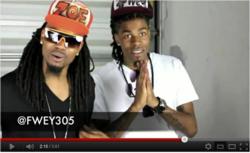 Miami, FL (PRWEB) January 31, 2012
Rap duo Fwey has released the official behind-the-scenes video from their recent photo shoot. The footage was shot by Spikes Productions and features the track "Abuser," one of the hottest songs off the highly anticipated mixtape "The Beginning V1," which is presented by Coast 2 Coast Mixtapes and KS Ent.
Brothers Zoe and Zone were born into a traditional Haitian family in Miami, Florida. It was their strong family ties and culture that helped them survive their childhood in the rough streets of Dade County and Little Haiti. In early 2001, when Zoe and Zone were teenagers, they moved to Minnesota with their family in hopes for a better life. But with barely any money, their new life didn't seem much different than before.
While living in Minnesota, Zoe found his passion for music, whereas Zone was born into the passion for music, and they decided to collaborate and produce a mixtape with four other artists, forming the HoodStarz. They discovered their music was heavily influenced by their Haitian background, but yet was still a nice mix with popular music today. The group spent numerous hours practicing and performing their craft on various stages in Minneapolis and St. Paul, until they were recognized by KS records, which had Zone and Zoe part ways from their group and form a duo, now known as Fwey. Fwey has recorded tracks with national artists such as Gucci Mane and Brisco, and has two tracks produced by Cool and Dre.
Zoe and Zone are bringing a new sound to the music industry. Representing their Haitian culture, the brothers want to use their music to help their family and their community. "It's more than the money," says Zone. "We look to make a difference in people's lives by grabbing their attention with our music and changing their lives by our actions."
Fwey's behind-the-scenes video is available to view at http://coast2coastmixtapes.com/videodetail.aspx/fwey-photo-shoot-behind-the-scenes
###