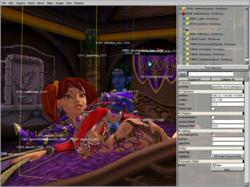 Albuquerque, NM (PRWEB) January 31, 2012
D-Dub Software announced today that they are beginning work on a Development Kit for BoneCraft, their sexy, hilarious new Sci-Fi/Fantasy parody game.
BoneCraft, which was released January 12, is the second release from the studio that brought you the risquè action-adventure parody BoneTown. The first-person hack-and-slash shooter game allows the player to finally go all the way with some of the sexiest creatures in the galaxy. The game follows Captain Fort Worth and his crew of Space Wranglers through encounters with naughty elves and racy robots, battles with Orc hoardes, and much more. Legendary voice actor Neil Kaplan, who has voiced such iconic characters as Tychus from StarCraft II and Optimus Prime in the Transformers series, plays Captain Fort Worth.
The BoneCraft Development Kit's initial release will include all of the script code used to create BoneCraft. With it, modders will be able to change many aspects of the game, like characters, missions, weapons, etc. Modders will also be able to create custom games they can share with the community, using assets from both BoneCraft and BoneTown. The release will also include a few simple tutorials on things like the World Editor, creating Characters, Fighting, Sex and how to make Missions. After the initial release, D-Dub will take community feedback into account to complete the documentation and additional features.
Though there is no official release date for the Development Kit, D-Dub hopes to launch it as soon as possible, and will continue to post updates on progress at http://www.d-dub.com
BoneCraft is currently available for the PC. Visit http://www.d-dub.com to purchase or to learn more about BoneCraft and BoneTown and view trailers, screenshots and wallpapers.
About D-Dub Software:
Founded in 2004 in Albuquerque, NM, D-Dub Software is not your average video game company. When they started the business, Hod, JB, and Max were recent college graduates and knew that they didn't want to be a part of the corporate culture. They have embraced the independent business spirit and developed BoneTown and BoneCraft by their own rules.
# # #