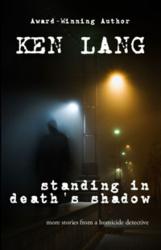 Lang is the real deal - a cop with chops . . . bestselling author Julia Spencer-Fleming
North East, MD (PRWEB) January 31, 2012
Ken Lang has spent the past 23 years working as a law enforcement officer—the last 15 years of which have been devoted to investigating rapes, robberies, and murders. But it isn't his investigations that has people talking—its his writing. Lang has been writing books about his experiences as a homicide detective, and he's no slouch.
Ken Lang is a former homicide detective and award-winning author who takes you on a spellbinding ride in Standing In Death's Shadow: More True Stories from a Homicide Detective, (210 pp, $12.99), his second book of his three book homicide series. Lang released his first book, Walking Among the Dead: True Stories from a Homicide Detective, in 2010. The following year his unique writing approach earned him recognition as one of "50 Great Writers You Should Be Reading" with The Author's Show—the premiere author radio show.
Lang's latest story begins when Stacey arrives at Bill Bateman's for her 5-year class reunion, she had no idea how a memory from her past would alter her future. In one innocent moment, a simple cordial act leads one on a path of jealous rage and another fighting for their life. Tempers flare, threats are exchanged, blood is shed, and the services of the homicide detectives are soon requested. In his second release of his homicide series, former homicide detective and award winning author, Ken Lang, unveils the inner workings of a chaotic homicide unit. Standing In Death's Shadows: More True Stories from a Homicide Detective is a fascinating and revealing read that throws you right into the conflict between the victims, their killers, and the detectives who are tasked to solve their murders. Ride along as the detectives are dispatched to the electric company retiree's house for a suspicious death. Found draped over the edge of his bathtub, you'll experience how the investigators struggle to determine the cause of death and put the pieces of the puzzle together. As you follow along with some astonishing revelations discovered during the autopsy, you're sent on an excursion for evidence that will reveal untold truths and cost another life. Become the detectives' shadow as they are summoned to the scene of a bewildering apartment fire where a grizzly discovery is made. With the charred remains found in a most peculiar way, the family of the lone tenant prays that the authorities can make sense of their unexplainable loss. But when the detectives scour the ruined apartment and yield little for evidence, they find themselves left with one slim chance to solve the case—and that chance requires them to race across country to beat the odds. A rare insider account of the exhilarating pace of a homicide detective's life, Standing In Death's Shadows: More True Stories from a Homicide Detective is a true crime adventure that thrusts you into the middle of the action and leaves you wanting more.
Bestselling mystery author, Julia Spencer-Fleming, says that Lang is "the real deal—a cop with chops." Spencer-Fleming was so impressed with his prose she invited Lang to guest blog for her True Crime Tuesday in November 2011 on her Jungle Reds Writer website. Lang took the opportunity to share about his passion in writing and how it is helping families of those murdered.
Chris O'Byrne, founder of Red Willow Digital Press, discovered Lang's writing talents after reading his debut release. No sooner did he close the book he picked up the phone and offered Lang an invitation to become one of Red Willows authors. O'Byrne says that Lang's "world is fascinating!"
Bestselling author Peter Thomas Senese says, "Lang's 'Walking Among The Dead' had such a unique pulse—a heartbeat, if you will—that called me back to this magnetic true-crime story."
Standing In Death's Shadow: More True Stories from a Homicide Detective entails actual murder and death investigations that Lang handled while working as a homicide detective near Baltimore, Maryland—recently named one of "11 Most Dangerous U.S. Cities" by the U.S. News. "What is most intriguing about my books is the approach in writing them. They're true crime, but written in a novel format. So the reader is thrown right into the action, walking along side the homicide detective, experiencing the cases as if they were really there," says Lang about his work.
Still employed as a detective, Ken Lang is also an accomplished forensic artist. He uses composite sketches, post-mortem drawings, and skull reconstructions to help identify victims and suspects in some of the most heinous cases. Some of his recent work has been featured on the Defrosting Cold Cases website.
With his second title now released, Lang's writing is being considered by a number of colleges and universities as recommended reading. Lang's was recently featured by Barbara Karageorgou in a campus news article at the University of Athens, Greece. Likewise, Towson University in Towson, Maryland, has Lang's work listed on syllabi as recommended reading for criminal justice majors.
Lang started writing books when ghostwriter, John Riddle, discovered Lang's natural ability to write and captivate his audience with his police stories. Under the direction of Riddle, Lang self-published his first book, Walking Among the Dead: True Stories from a Homicide Detective, which drew the attention of Red Willow Digital Press. Lang signed on with Red Willow in 2011, Standing In Death's Shadow is his first release with Red Willow. Lang is currently writing the third and final book of this series and plans to start a crime novel in the near future. You can learn more, please visit Ken Lang's official website.
ISBN: 978-1-936539-76-5
To place your order, you may contact Red Willow Digital Press.
Lang's books are also available on Amazon's Kindle and BN's Nook.
To arrange a book signing or interview, you may contact Ken Lang through his website.
###