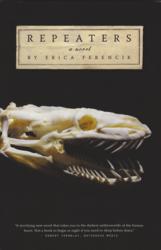 The eeriness factor in reincarnation is off the charts.
Boston, MA (PRWEB) January 31, 2012
Karma is nasty. So is Dr. Astra Nathanson, the heartless narcissist at the center of a bone-chilling new novel that dares the reader to pause as it explores why some people just can't seem to get it right—no matter how many times they come back to try.
The good Dr.Nathanson is a Repeater, one of humanity's extreme karmic losers, doomed to live as many bleak lives as it takes to learn what the universe actually expects of them. Evil to the core, she's come back this time as a noted child psychiatrist. Nobody is what they seem in this dark, chilling exploration of the human heart and what it's capable of in the absence of love.
"Reincarnation has always fascinated me," says Erica Ferencik, author of Repeaters, whose work has been featured in the Boston Globe, Salon, and on National Public Radio. "It's a chance to live again so it's hopeful. But like everything else, the ultimate 'do-over' probably has a dark side. What do you do with a soul that refuses to learn?"
"Wild, sexy, scary and smart . . . a one-of-a-kind take on reincarnation"
—William Walsh, Author of Questionstruck and Without Wax
Ferencik is a master at creating suspense—and at times puncturing it with disturbing events. Astra Nathanson's latest incarnation, for example, isn't getting off to a very good start—assuming mothers have no business murdering their daughters in order to steal their boyfriends. That readers come to care greatly for the daughter only makes it worse when it happens. They reel at the injustice. But life goes on. Especially in cleverly written tales of reincarnation.
"Some nights while I was writing this I scared myself so much I couldn't sleep," admits Ferencik. "The eeriness factor in reincarnation is off the charts." Reviewer Robert Tremblay agrees: "Repeaters is not a book to begin at night if you need to sleep before dawn." Betsy Fitzgerald, author of October Run, calls Repeaters a "frighteningly good read," hailing Ferencik as "an exciting new voice in horror."
A Repeater can be identified by the scars on his body. "They tend to carry the cause of their death into their next incarnation," says Ferencik. "Hanged as a traitor? You may be born as a baby with a rope burn around your neck. Whipped? Shot? Butchered? Electrocuted? You carry it along with you."
In Repeaters, unlike many stories of the supernatural, Ferencik has created a tight little world whose rules never contradict themselves. It's easy to get lost in this chilling exploration of souls gone mad. First-rate suspense lives again.
Repeaters by Erica Ferencik
Waking Dream Press (U.S.)
Trade Paperback Edition, $14.95
ISBN: 978-0-9815741-1-0, 5 ½"x 8 ½", 372 pages
Critical acclaim for Repeaters
"Mary Shelley gave us Frankenstein and Erica Ferencik gives us Dr. Astra Nathanson in Repeaters . . . and the question must be asked, why are women so good at writing stories that scare the pants off you, have you checking the locks on the doors, and keeping the lights on to fend off the dark? . . . This is one scary story that readers who like their thrills bloody will love."
—Alan Caruba, Bookviews, January, 2012
"Wild, sexy, scary and smart . . . a one-of-a-kind take on reincarnation."
—William Walsh, author of Questionstruck
"Astra is one of the most monstrous villains ever written."
—Margot Huysen, Blogcritics
"A chilling, suspenseful, erotic read."
—Chris Mooney, author of Remembering Sarah
"Some people wait a lifetime for love; others wait many. Repeaters is the story of black and murderous love, a cautionary tale that, in the hands of the gifted Erica Ferencik is often terrifying and truly unforgettable. You'll be riveted by this bold and brilliant novel."
—Mary E. Mitchell, author of Love in Complete Sentences
"Repeaters is a frighteningly good read. It's Mommy Dearest with scales. Count your blessings that evil Astra is not your mother. Ferencik is an exciting new voice in horror."
—Betsy Fitzgerald, author of October Run
"A riveting supernatural thriller filled with reincarnation, romance, and the vilest villainess this reader has ever encountered. Truly, a chilling page-turner!"
—Jeffrey Thomas, author of Deadstock
About the author
Erica Ferencik is a Boston-based novelist and screenwriter with a BA in painting and an MA in creative writing from Boston University. She is the author of Cracks in the Foundation, a comic novel called "hysterical" by Alex Beam of the Boston Globe. Her ghosted memoir of Boston broadcasting legend Ron Della Chiesa, Radio My Way, was released by Pearson Education in November of 2011. She also ghosted a novel called The Mutation for Katherine Applegate's bestselling young adult s/f series "Animorphs" (Scholastic). A prizewinning screenwriter, her feature comedy "Mob Dot Com," (cowritten with comedian Rick D'Elia) was optioned by Goodman Productions. She's written sketch comedy and performed standup comedy for ten years at major venues in Boston and throughout New England. She wrote and performed several radio pieces for WGBH (a Boston NPR affiliate) for "Morning Stories."
For more information, please visit http://www.repeatersthebook.com.
Media Contact: Victor Gulotta, Gulotta Communications, Inc., 617-630-9286, http://www.booktours.com, victor(at)booktours(dot)com
# # #