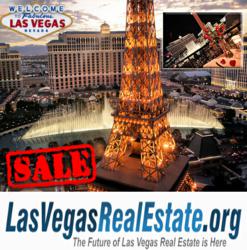 Las Vegas Real Estate Becomes Recognized Global Investment
Las Vegas, NV (PRWEB) January 31, 2012
Homes for sale in Las Vegas hit record high all-cash purchases in buying spree from from institutional and private investors. Las Vegas real estate is currently #1 in the US for price-to-rent ratio making it possibly the best rate of return on cash-flow properties in America. LasVegasRealEstate.org reports that Las Vegas real estate market prices have reached 20-year lows as Nevada led all states with foreclosure sales accounting for nearly 50% of the 48,186 purchases in 2011.
Ashley McCormick of Realty One, Nevada's number one Las Vegas real estate company, says that even the most most discerning buyers are running the numbers and embracing Las Vegas. She notes that people who went through a foreclosure or short sale more than three years ago are starting to re-enter the market. Money that has been sitting on the sidelines for years is making its way into the Las Vegas residential market buying mostly Las Vegas foreclosures with over $720 Million just in the last 90-days.
McCormick says that the strong rental market is backed by the service industry that is directly tied to tourism. According to the annual tourism report the average Las Vegas tourist spent more and stayed longer compared to a year earlier. Visitors stayed an average of 4.6 days with the average cost of a vacation package since 2010 at $651 and holding thru 2011. February is expected to post record numbers as Las Vegas is the number one choice for Super Bowl Parties followed by Las Vegas Valentine's Day events and weddings. Vegas is know for it's incredible deals on travel, entertainment and now buying second homes, Las Vegas high rise condos or immediate cash-flow investment properties.
While the foreign buyers and investors are taking advantage of the current Las Vegas real estate investing trends, McCormick says that US-retirees are also getting in on the deals as Sun City Las Vegas homes for sale in active adult communities are starting at $100K. McCormick has recently added a new toll-free number to accommodate the increased interest at 1-888-920-2292. Over 10,000+ homes for sale in Las Vegas to including Las Vegas foreclosures can be viewed online at http://www.LasVegasRealEstate.org
###