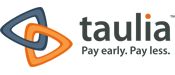 Taulia is committed to providing our customers superior service and the assurance that their data is absolutely secure.
SAN FRANCISCO, Calif. (PRWEB) January 31, 2012
Taulia Inc., the leading cloud-based dynamic discounting solution provider for SAP®, today announced it has bolstered the company's data security through achieving certification for the Statement on Standards for Attestation Engagements No. 16, known as SSAE 16. This new certification replaces the previous SAS 70, with additional requirements that more closely align with the international gold standard ISAE 3402.
"Taulia is committed to providing our customers superior service and the assurance that their data is absolutely secure," said Bertram Meyer, CEO of Taulia. "By maintaining the strictest policies and procedures we ensure we are consistently compliant with the most comprehensive industry certifications, including SSAE 16."
Additional areas where SSAE 16 extends the scope of SAS 70 include:

A longer testing period (one year as compared to only one day)
A broader definition to include a test of the entire system, rather than merely the controls
Requirement of a written assertion by management, maintaining that the test was fully inclusive and fairly representative of the company's systems
"Taulia has successfully completed a comprehensive Type 2 SSAE 16 SOC 1 internal control audit demonstrating that controls surrounding confidentiality, integrity and availability were in place to perform both business and complex systematic operations," said Daniel Geiger, Senior IT Security Auditor, SAS70 CPA, Inc. "Taulia implemented audit recommendations from the previous audit period to create a larger, more in depth scope of audit for the current reporting period."
Taulia offers companies dealing with today's global credit crisis an opportunity to better manage working capital for larger organisations and improve cash-flow for smaller businesses. The company's Invoicement® Suite provides dynamic discounting and a supplier portal for Global 2000 companies, allowing them to save millions of pounds annually using dynamic payment terms and on-demand payment acceleration for their suppliers, in return for additional discounts. Taulia's Vendor Portal offers suppliers the ability to accelerate invoice payment on-demand, eliminating the need for costly receivable financing or credit card borrowing. The supplier portal also reduces collection cost and removes the need for inquiries by providing 24/7 visibility and comprehensive self-services, all free of charge.
About Taulia
Headquartered in San Francisco, California, Taulia is a solution provider specializing in Software-as-a-Service (SaaS) solutions that help large organizations reduce their total spend and achieve double-digit returns on their cash positions by optimizing their financial supply chain and payment terms with their suppliers. The Taulia Invoicement® Suite offers a cloud-based dynamic discounting solution and supplier portal. Taulia has offices in San Francisco, New York, London (U.K.) and Düsseldorf (Germany). Its list of customers includes Coca-Cola Bottling Co. Consolidated, Pfizer, John Deere and other Fortune 500 companies from various industries. For more information, visit http://www.taulia.com.
# # #