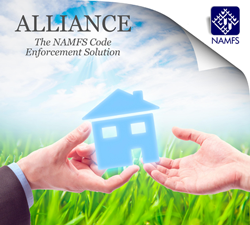 ALLIANCE is just one of our solutions aimed at increasing proactive, cooperative exchange of information via a common platform before engaging in a lengthy, potentially expensive violation recording and remediation process.
~ Eric S. Miller, NAMFS
Stow, Ohio (PRWEB) January 31, 2012
The National Association of Mortgage Field Services (NAMFS), the premier trade association for the mortgage field service industry, announces an opportunity for Code Officials to participate in the review of several key enhancements to ALLIANCE – The NAMFS Code Enforcement Solution. As the only trade association serving the mortgage field service industry, NAMFS is able to provide a uniquely independent platform to improve communication regarding vacant properties and combat blight within our communities. If you are interested in participating in this review please respond to admin(at)namfs(dot)org.
This free, real-time, web-based tool, located at NAMFS.org facilitates and streamlines communication and collaboration between local code enforcement officials and national field services providers for the mortgage servicing industry. Users in the code enforcement community are able to input property-specific information including code-related issues, comments, photos and potential fines if not addressed. Field service users receive this information and either initiate contact with the appropriate code enforcement officer or indicate they do not service the property.
Since its initial release, participation within both the code enforcement and mortgage field service communities has steadily increased. Thus far ALLIANCE has served over 750 code enforcement officials in over 400 unique jurisdictions nationwide. This increase has enabled the program to thrive and evolve to more closely meet the needs of the industry. Getting started with ALLIANCE is easy and code enforcement officials can complete the process in less than 15 minutes. Webinars are also available upon request to demonstrate the program and its offerings to individuals as well as large groups.
Feedback since the inception of ALLIANCE has been both constructive and positive enabling several rounds of enhancements including our next, most ambitious round of improvements scheduled for release in late February 2012. Users can look forward to more efficient entry and response options, customizable notification, increased reach to national field service companies, and enhanced property details including vacant property registration and homeowners association data.
NAMFS will be continuing outreach to the code enforcement community during 2012, through participation in conferences, industry communications, webinars and newsletters. To begin using this valuable service or to obtain additional information regarding ALLIANCE, please visit the ALLIANCE page on NAMFS.org or email training(at)namfs(dot)org.
About NAMFS
The National Association of Mortgage Field Services, Inc. (NAMFS) is the premier trade association for the mortgage field service industry. We are dedicated to working with all entities of the industry from the Government Agencies and investors that set policy to the contractors and inspectors that perform the work.
###