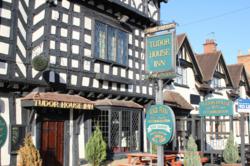 Pubs still struggling to stay open are finding it difficult to give up these services as they rely on them to bring in enough business just to keep open.
(PRWEB) January 31, 2012
Encouraging pubs / Inns across the UK with B&B accommodation to use internet based technology to market their rooms and services has been the mission of Pub Rooms for the last 4 years.
Now in its 10th year the British pub & inn guide wants to celebrate by giving pubs & inns across the UK an opportunity to use a promotional offer scheme to win more business without giving any of their profits away.
The last 5 years has seen a prolific growth in people using internet booking systems and more recently voucher code promotions supplied by third party businesses.
These businesses have been smart to provide the service but the service has nothing to offer pubs and inns of benefit.
A recent report from a British pub claimed they made approx 10p after the promotion was applied. Most pubs entering into these types of coupon and voucher promotions are struggling and in desperation, the last thing they need is for a company to capitalise from a failing business.
Pubs still struggling to stay open are finding it difficult to give up these services as they rely on them to bring in enough business just to keep open.
This method of marketing is not sustainable for any type of business but because pubs rely on cash flow this is sometimes the only option, as the promotions do not require money upfront.
No one is to blame, it's an opportunity technology has opened up for new businesses to provide such a service, yet this type of marketing isn't in the favour of the business offering the product and service so, it's the wrong type of marketing, says Peter Jones the marketing director of pub Rooms.
It is a simple case of ill thought out marketing strategies from the very beginning of the business' life. It is easy for a business to pay someone after they have brought in the business. But it's not so easy to actually bring in the business and pay before it happens. It's a mistake to believe free marketing is the best marketing.
If you have a strong brand, strong product, strong service and provide all this with a smile, go out and tell the World what you do!
Why would you want to cheapen your product and service and bring in customers that will never return once they've had your offer.
It's not until after the business has been and gone and the commissions are paid that the business realises they are either working for very little or practically nothing. The worst case examples have been reported by businesses using a coupon services taking at least 40% from the participating businesses, leaving them with as little as 10p profit for each customer received. Compared with what is paid out to the coupon promotion service it is clear to see who the real winners are.
For years Pub Rooms has been informing pubs and inns that they must do more to bring in the business and enquiries directly and not just relying on internet marketing Eg A local leaflet distribution to the local community for Valentines offers in February
For some reason the pub sector has not been quick to benefit from internet marketing and now it seems those struggling are choosing the wrong methods to market their pub offers, whether they be food led offers, accommodation offers or both.
Pub Rooms is one of a few successful Pub & Inns guides offering visitors the option to deal with the Pubs and Inns directly. It's down to the Pub to promote their offers on the Pub Rooms internet guide by logging in and publishing their offers.
In a bid to help pubs and inns stay open Pub Rooms is offering a service to struggling pubs, please call 0845 388 1071 to learn how your traditional pub hotel can be helped with internet marketing that works.
# # #