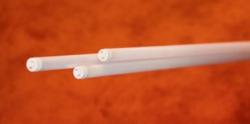 The L20 increases plant growth and improves plant quality
Helsinki, Finland (PRWEB) January 31, 2012
Valoya's CEO Lars Aikala comments: "The new tube light L20 is the first product in our L -series and completes our offering. We can now offer a solution for all types of plant growth needs. Installing L20 is as easy as replacing the old T8 fluorescent tube with a new L20 tube."
The new L -series complements the existing offering by giving the growers possibility to install the L20 -fixtures as close as 10 cm from the plants, without sacrificing light uniformity or damaging the plants with heat radiation from the fixture.
As with all Valoya products the plant optimized light spectrum of the L20, increases plant growth and improves plant quality compared to traditional fluorescent tubes or high pressure sodium lights. In the L20 the light spectrum has been modified also to better accommodate human eyes, i.e. it looks white for the human eye. This has been done with minuscule impact on the growth properties of the spectrum, thus the light is also suitable for use in spaces where humans co-exist with healthy growing plants.
About Valoya
Valoya is a provider of energy efficient LED grow lights. Valoya LED lights have been developed using Valoya's own proprietary LED technology and extensive plant photobiology research. Currently, Valoya's growth lights are used for a wide variety of plant species in 15 countries. Valoya's customer base encompasses numerous greenhouses and research institutions all over the world.
Valoya has a complete range of products to satisfy various plant lighting needs: L-series in T8 form factor for easy retrofit architectural and very low height applications. R -series is a very powerful roof light that comes in two models R200 and R400 to replace old high pressure sodium installations. The B -series bars are perfect for inter-lighting, mid height installations and also to special cultivation spaces within living areas. B -series comes in B50/B100/B150/B200 varieties.
###