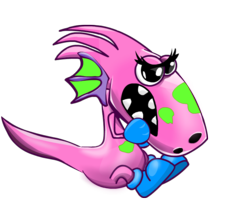 This game is fun and easy to play, but challenging enough to keep users interested for hours.
Tel-Aviv, Israel (PRWEB) January 31, 2012
Announcing that HUMAN G&A Ltd, the developer of Mishu The Dragon, has just released the latest update for iPhone, iPod touch and iPad users. Mishu The Dragon 1.3.2 offers HD graphics and non-stop, fire breathing action, but the real fun comes with this latest update. The developer has placed Mishu The Dragon head and shoulders above other running games by adding an online multi-player feature to this already fun and addicting app. Players can invite their friends who own the app to an online last dragon standing match.
At this time, no other running game in the app store offers multi-player action, making Mishu The Dragon a unique and ground breaking app.
Mishu The Dragon 1.3.2 Features Include:

Innovative Multiplayer mode
Colorful HD graphics
Easy to play
Collect power ups
Fast and frantic action
Many Enemies to defeat
Online leaderboards
The user interface is both easy and intuitive. Users tap the left side of the screen to make the dragon jump, or tap twice to fly. Tapping the right side of the screen launches a fireball. Players make Mishu jump or fly to avoid spike covered obstacles and launch fireballs to defeat their enemies.
Users collect "Power-Up" items along the way, allowing for more powerful attacks. These include bouncing fireballs, triple fire, electro fire, and far shooting fire. With these Power-Up items, players can devastate the enemy, but there is also danger. Mishu accumulates damage while doing battle, so users must pay attention to his health.
HD graphics make the game more enjoyable than other, similar apps, and the online leaderboard is a useful feature that lets players check their place in the standings among other players. This game is fun and easy to play, but challenging enough to keep users interested for hours.
About HUMAN G&A Ltd
HUMAN G&A Ltd is a game development studio headquartered in Tel-Aviv ,Israel. Their mission is to create fun and innovative games that stand out from the crowd and appeal to a wide variety of users around the world.
Device Requirements:
iPhone, iPod touch and iPad
Requires iPhone OS 4.0 or later
77.1 MB
Pricing and Availability:
Mishu The Dragon 1.3.2 is only $0.99 (USD) and available worldwide exclusively through the App Store in the Games category. Promo codes are available for qualified reviewers. Please specify the website or blog you represent when making your request.
Mishu The Dragon 1.3.2
http://humangna.com/?portfolio=mishu-the-dragon/
Purchase and Download
http://itunes.apple.com/us/app/mishu-the-dragon/id469395194?mt=8
Demonstration Video
http://youtu.be/J5p1TXWQ870
Screenshots and App Icon
http://photobucket.com/MishuTheDragon
CONTACT
Michael Katseli
Media Contact for HUMAN G&A Ltd
mk(at)humangna(dot)com
###