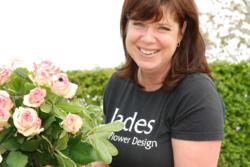 "The courses are perfect for those who want to create spectacular arrangements at home."
Coggeshall, Colchester, Essex, UK (PRWEB UK) 31 January 2012
Beverley, who founded Jades Flower Design over 20 years ago, has charmed plenty of brides, grooms and guests with her unique and stunning flower designs and has worked on royal and celebrity weddings.
"Part of our service has always been about achieving a personal touch and now we've decided to take this a step further by sharing our knowledge and offering a new style of flower arranging courses to those who are keen to create their own" said Beverley.
Held in Jades Flower Design's purpose built workshop surrounded by beautiful Essex countryside, Beverley's courses provide a fun day out with family and friends, or brides-to-be and hen parties, topped off with a light lunch and refreshments throughout the day.
There are set dates for the courses this year and Beverley also offers personal flower arranging courses for private groups. "Flower arranging is a rewarding skill and one which most people will be surprised they hold," says Beverley.
For more information about Beverley Nichols flower arranging courses for 2012 visit http://www.jadesflowers.co.uk, email flowers@jadesflowers.co.uk, or telephone 01376 56311
For media enquiries please contact roxanne(at)thewriteimpression(dot)co(dot)uk or call 0845 5272 801.
###