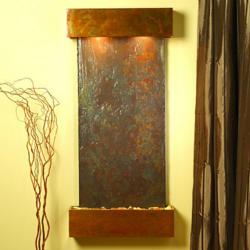 The site is focused strictly on meeting the needs of our customers who need indoor fountains for their home or business.
Arden, NC (PRWEB) January 31, 2012
Kinetic Fountains, a national leader in high quality indoor and outdoor fountains, has today launched their new specialty niche website, IndoorFountains.com. The new website is dedicated to providing customers with access to indoor fountains for use in the home or office.
Polly Godwin, Vice President of Kinetic Fountains, said, "We're very excited to launch this new website. The site is focused strictly on meeting the needs of our customers who need indoor fountains for their home or business."
The new niche website offers customers access to a wide range of indoor water features, including wall fountains, floor fountains, tabletop fountains, water walls and more. Customers seeking indoor fountains will be able to choose from a variety of beautiful designs in a range of unique materials, including copper, glass, stainless steel, slate, ceramic and natural stone. The range of materials and design combinations ensures that anyone can find the perfect way to bring life and relaxation to their environment, whether they want indoor water fountains for their business office or their home.
IndoorFountains.com also provides customers with a selection of only the top brands in water fountains, and offers names like Adagio, Alpine, Art Matters, BluWorld, Campania, Fountain Factory, Harvey Galleries, Homedics, Hunter Kenroy, Midwest Tropical, Nayer Kazemi, Water Wonders and Woodstock.
Indoor water features have become enormously popular lately. They have long held a special place in homes, but more and more businesses are realizing the health benefits and other advantages to having indoor fountains within their business location.
All the indoor water features found at IndoorFountains.com are designed specifically for use indoors, and are the perfect way to bring the incredible beauty of nature into any indoor area. From Eastern-inspired water fountains that combine running water with bamboo to modern constructions of stainless steel and glass, IndoorFountains.com offers the best selection of the highest quality water features available anywhere.
To find out more about the water features and indoor fountains on offer, visit the company at http://www.IndoorFountains.com.
About Kinetic Fountains: Kinetic Fountains is located in the stunning Blue Ridge Mountains in North Carolina. The company is dedicated to giving customers the means to enjoy the incomparable beauty of nature and the health benefits offered by running water in the form of indoor fountains, outdoor fountains, logoed fountains and more.
###