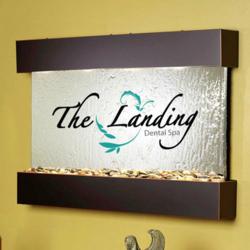 Customers are able to get a free mockup of a fountain with their logo on it to truly see the benefits offered.
Arden, NC (PRWEB) January 31, 2012
Kinetic Fountains has unveiled their latest niche specialty website, FountainSigns.com. The new website provides customers with access to high quality logo fountains for indoor or outdoor use. Increasingly, fountain signs are being utilized by businesses seeking a distinctive, innovative branding method that combines elegance, customization and the unique beauty and benefits of running water.
FountainSigns.com offers businesses a unique opportunity to combine their business logo with a water fountain. These fountains can be used in numerous places, and businesses are placing them in lobbies, within doctor's offices, in meeting rooms and more. They play an important role in spas and health clubs because of the stress-relieving, relaxing properties of running water, but they also provide a means for businesses to achieve incredible branding results.
According to Vice President Polly Godwin, "Fountain signs are a great alternative to traditional sign options, and provide significant branding opportunities."
Customers will find that FountainSigns.com provides access to a wide range of fountain materials and designs, ranging from elegant modern glass and stainless steel to copper and slate, stone and glass, as well as other options. Each fountain can be customized with the customer's logo inside the fountain through the company's simple ordering process. In addition, Vice President Polly Godwin notes, "Customers are able to get a free mockup of a fountain with their logo on it to truly see the benefits offered."
Fountain styles on offer for use as fountain signs include wall fountains, floor fountains, large water walls and more. Moreover, they include selections from the world's most respected fountain manufacturers, such as Adagio, BluWorld, Midwest Tropical Fountains and Water Wonders. Logo fountains are also available in indoor and outdoor designs to suit a business' needs, whether the company wants to provide beauty and tranquility in the lobby or grace an outdoor courtyard with a stunning logo fountain.
FountainSigns.com urges businesses to make the most of this growing trend now – the branding benefits and the health benefits offered by custom fountains are tremendous.
To find out more about fountain signs, the customization process and see examples of custom logo fountains, visit http://www.FountainSigns.com.
About Kinetic Fountains: Kinetic Fountains is located in the stunning Blue Ridge Mountains in North Carolina. The company is dedicated to giving customers the means to enjoy the incomparable beauty of nature and the health benefits offered by running water in the form of indoor fountains, outdoor fountains, logoed fountains and more.
###