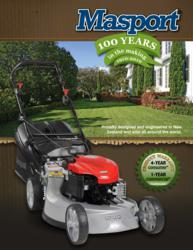 With innovative engineering, the highest quality fit and finish and reliable Briggs & Stratton power, the Masport lawnmower line is broad, feature-rich, commercial-duty and poised to make its mark here in the United States"
Columbus, Ohio (PRWEB) January 31, 2012
Masport Ltd. began over one hundred years ago as a family owned manufacturing company in Auckland, New Zealand. Since then the Masport brand has gained recognition for tough, high quality, reliable outdoor power equipment. Masport mowers have been developed and refined in the tough outdoor environments of Australian and Kiwi backyards and are now delivering that field tested experience, commercial-quality and engineering excellence to over 40 countries worldwide.
"While new to the U.S. market, Masport brings with it over 100 hundred years of manufacturing experience. With innovative engineering, the highest quality fit and finish and reliable Briggs & Stratton power, the Masport lawnmower line is broad, feature-rich, commercial-duty and poised to make its mark here in the United States", said John Krueger, Marketing Director for Central Power Systems.
Central Power Systems aligns state-of-the-art distribution, direct sales, customer & technical support and certified service training to offer the most complete brand, service and product support in the industry. As full line distributors of Briggs & Stratton engines and parts, Murray brand service parts, Worx Yard Tools, DOLMAR Power Products, Briggs & Stratton portable generators and pressure washers, Masport lawnmowers, Carlton forestry products, TrailerMate cargo management systems, NGK and Champion spark plugs, and a full line of Fuel Solutions from leading brands like Mechanic In A Bottle, Opti, Star*Tron and VP Racing, we supply an independent network of over 6,000 sales & service locations throughout the Midwest and Florida.
# # #