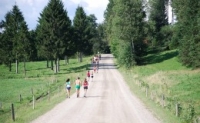 Outstanding camp experience including daily runs, informative breakout sessions and outstanding nationally recognized featured speakers.
San Rafael, CA (PRWEB) January 31, 2012
US Sports Camps announces a merger with the Green Mountain Running Camp (GMRC). After 38 years serving as co-director of the GMRC, Coach Roy Benson has sold his 50% stake to US Sports Camps. Coach Benson will remain on camp staff until 2014.
The Green Mountain Running Camp sets the standard for excellence in cross country training and education. Founded by John Holland in 1974, GMRC offers an outstanding camp experience featuring daily runs, informative breakout sessions and talks given by nationally recognized featured guest speakers.
The legacy of Founder and Co-Director John Holland and Roy Benson will continue to grow with the professional marketing/registration expertise of US Sports. Coach John Holland continues in his roll as lead director. "After a lot of hard work and sole searching between Roy and me. it is my feeling GMRC will be best served going forward by joining ranks with US Sports. The partnership frees me up to continue to expand my vision of bringing the best program we can offer young runners year in and year out. I have had a positive relationship with Charlie Hoeveler, CEO and Founder of US Sports and Jan O'Connor, EVP, for over 10 years which has resulted in the sharing of ideas and making program adjustments to allow each of us to better serve our campers during the summer camp season."
Coach Benson and US Sports enjoyed a similar relationship regarding the highly successful Smoky Mountain Running Camp, Asheville, North Carolina, in which the partnership of USSC and Benson greatly increased its world-wide visibility. The Smoky Mountain Running Camp celebrates its 40th year anniversary this summer. Over 15,000 runners have travelled to Lyndonville, Vermont to train in the refreshing atmosphere of the Northeast Kingdom.
The Green Mountain Running Camp hosts three weeks of camp, over 800 runners each summer. The GMRC puts great emphasis on teaching runners the wisdom of the hard/easy training philosophy developed by the late, great U of Oregon coach and Nike co-founder Bill Bowerman. To implement the Bowerman philosophy, we use Coach Benson's Effort Based Training Program to allow the whole camp to run the same appropriate effort while allowing each group to train at their individualized paces based on their current fitness, over-all ability and general goals. The instruction is serious and the training is right for this time of the summer.
GMRC also offers Advanced Placement Cross Country Classes and a Coaches Workshop, covering the latest in training and racing techniques. With the support of this strong partner, the long term health and survivability of Green Mountain Running Camp will be virtually guaranteed. Together US Sports and GMRC are working on making 2012 our strongest year ever.
About Nike Running Camps
Nike Running Camps are operated by US Sports Camps (USSC), headquartered in San Rafael, California. USSC is America's largest sports camp network and the licensed operator of Nike Sports Camps. The company has offered summer camps since 1975 with the same mission that defines it today: to shape a lifelong enjoyment of athletics through high quality sports education and skill enhancement.
Players, coaches, parents and others interested in the 2012 Nike Running Camps can visit http://www.ussportscamps.com/running or call 1-800-645-3226.
# # #