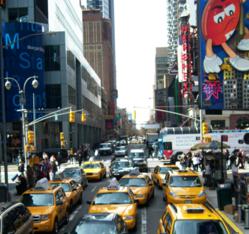 Akron, OH (PRWEB) January 31, 2012
A leading provider of accessible wheelchair vans for consumers and commercial businesses may have the answer that taxi operators, the city of New York, and the disabled community has been looking for. The inexcusable small number of accessible taxis in New York City finally made its way into District Court – with the prospects for wheelchair users being able to find a taxi looking much brighter.
MobilityWorks has developed a new accessible, self-storing wheelchair ramp for the popular Ford Transit Connect van in hopes of winning over taxi operators, including those in charge of New York's Taxi and Limousine Commission (TLC). The commission controls the number of taxi medallions issued – including those designated for wheelchair accessibility. As of today, less than 2% of the more than 13,000 taxis serving New York City can safely load and transport a wheelchair passenger with a permanently installed, ADA compliant ramp. A recent lawsuit filed against the TLC has put the wheels in motion on making New York more accessible.
While the courts have made a summary judgment against the TLC (Noel v. New York City Taxi and Limousine Commission, 11 Civ. 237 (GBD)) stating that its lack of vehicles for accessibility violates the Americans with Disabilities Act (ADA), it is still up in the air as to what type of vehicles and how many will be added to the fleet within the next year. In response to the ruling, the TLC stated that they were already working on a plan with legislators and with the Governor's office to increase the taxi medallions being issued, specifically for wheelchair passengers. Whatever their prior intentions were, the lawsuit appears to have sped up their plans. According to recent articles, the goal is to increase the entire NYC fleet of wheelchair taxis to 2,000 vehicles. They have also stated that they are going to establish a "Wheelchair Accessible Dispatch Program" whereby passengers can call a special 311 number to request an accessible taxi pickup.
Profits and Accessibility at Odds
Taxi fleet operators have struggled for years with making a decision on which type of vehicle to purchase in making their fleets more accessible. With fuel cost being as high as they are, taxicabs rely on constant use and new passengers being picked up within close proximity to the last drop-off. Since many wheelchair van designs include the removal of the middle bench seat altogether, these types of vehicles aren't profitable enough with the small percentage of disabled passengers utilizing its service. With wheelchair passengers, there just isn't enough drop-off and pickup turn-around within the same area. This results in a lot of downtime and a loss of revenue for the taxi drivers.
Enter the MobilityWorks Flex-Flat Ramp. This innovative solution allows for a taxicab operator to utilize a vehicle with wheelchair passengers just as efficiently as with with able-bodied passengers. The vehicle can be transformed to and from an accessible vehicle in a matter of seconds. The rear-entry wheelchair ramp folds out when needed and stays upright in the back of the van when a wheelchair passenger is on board. The middle bench seat folds and tumbles forward, providing plenty of room for the wheelchair and an additional able-bodied passenger on the right-hand side of the wheelchair. With non-wheelchair fares, the bench seat is folded into its normal position with the ramp in the back folded forward and flat to create a trunk-like space, just as if the ramp wasn't there at all. This allows for rider baggage to be stored in the rear compartment, which is a taxicab necessity for the significant amount of airport pickups for people visiting New York City. The Flex-Flat will soon be available for Dodge, Chrysler and Toyota minivans as well.
U.S. District Judge George B. Daniels stated in his ruling: "The TLC has taken no steps to require, promote, or provide a financial incentive to non-accessible medallion owners to purchase accessible vehicles. ... The TLC admits that there is no reason why the TLC could not effectuate an increase in wheelchair accessible taxicabs."
With the Flex-Flat Ramp now in production, New York City (and other large metro areas) will have no excuse to delay an increase in available wheelchair taxicabs. ADA compliant handicap vans, such as MobilityWorks' own Ford Transit Connect conversions, have been serving the disabled market for many years with great success. This new ramp system is the answer that everyone has been looking for.
About MobilityWorks:
MobilityWorks offers a wide selection of quality new and used handicap vans designed to accommodate your individual needs.
###