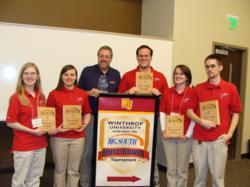 Lynchburg, VA (PRWEB) January 31, 2012
Liberty University's Quiz Bowl team captured its sixth Big South Conference win in seven years at Winthrop University in Rock Hill, S.C., on Saturday, Jan. 28.
The team competed against six schools and walked away undefeated for the second year in a row. The average margin of victory was 190 points; they won their closest game by 140 points.
In its out-of-conference schedule last semester, the team defeated Duke University, University of Maryland, Virginia Tech, University of Pittsburgh, George Washington University and Western Kentucky University.
Quiz Bowl has been called "the varsity sport of the mind." Players answer a variety of questions on literature, history, geography, government, the sciences, math, art, popular culture, and sports. Games consist of two 10-minute halves.
Dr. James Nutter, Liberty's coach, said it is similar to Jeopardy "but with much harder questions, where we compete in teams of four against other colleges."
Next weekend, the Quiz Bowl team will travel to Virginia Tech to compete in a regional competition of the National Academic Quiz Tournament. The top teams will qualify to attend the Intercollegiate Championship Tournament (ICT), the premier quiz bowl tournament at the collegiate level.
The Quiz Bowl team is part of Liberty's rigorous Honors Program. The team has 18 players from a variety of majors, and six are National Merit Finalists on a full academic scholarship at Liberty. With two seniors graduating in May, Nutter said the team is looking for new players "who possess a great depth of academic knowledge, popular culture, and trivia."
BIG SOUTH TOURNAMENT RESULTS
LU over UNCA, 275-35
LU over Winthrop, 310-70
LU over Radford, 260-100
LU over Coastal Carolina, 245-75
LU over Gardner-Webb, 255-115
LU over VMI, 270-80
Liberty University, located in Lynchburg, Va., is the world's largest Christian university. More than 12,000 students attend classes on its 6,500-acre residential campus and more than 61,000 study in its thriving online education program.
# # #