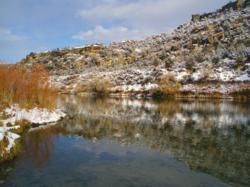 Barry St Clair, Texas fishing pro and fishing guide author says "In mid-winter on the San Juan under a blue sky you can catch big fish on a small fly. Of course, I've fished there in snow flurries too. It's still fun and you still catch those big trout."
Farmington, New Mexico (PRWEB) January 31, 2012
No need for cabin fever, skip this season's fishing expos and fly tying seminars and head out to the San Juan River this winter, just 30 miles east of Farmington, New Mexico, below the Navajo Dam, where the trout are biting and while the crowds at this amazing river are sparse.
Longtime fly fishers will tell you that the best fly fishing in the United States is on the quality waters of the San Juan River. Trout in these waters grow huge. The way to avoid the crowds is to fish the San Juan in the winter.
Barry St Clair, Texas fishing pro and fishing guide author says, "In mid-winter on the San Juan under a blue sky you can catch big fish on a small fly. Of course, I've fished there in snow flurries too. It's still fun and you still catch those big trout." The secret of the San Juan is the constant water temperature; water that doesn't freeze provides a steady food supply of aquatic insects that trout thrive on. And there are plenty of trout.
The quality waters of the San Juan are a 4.5 mile section below the Navajo Dam that is a protected catch and release area. There are an estimated 80,000 trout there and the fishing remains excellent beyond that for about another seven miles.
Everything you need for a fishing excursion on the San Juan, including fishing licenses, equipment, food, and lodging is available near the Navajo Dam. There are numerous lodges, motels, and camping areas, shops with gear and many guide services.
The Soaring Eagle Lodge is one of the most comfortable, offering an all-inclusive package of services and a private section of the San Juan to fish from. There are many other options in Farmington. Air service to Farmington is provided by Great Lakes Airlines to and from Denver, Phoenix, Las Vegas, Prescott, Kingman, & LA/Ontario.
Come prepared for changing weather, sun, frost, wind even snow flurries are all possible. Whatever the weather, those trout will be biting and the water temperature will be 40 degrees.
# # #