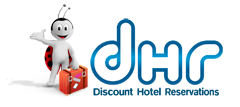 (PRWEB) January 31, 2012
Today, DHR.com Travel Agency Program has thousands of member travel agencies from all around the world. And more travel agencies are becoming members in order to have the benefits of DHR.com's competitive prices and high commission. DHR.com provide agencies to expand their market and increase the service quality using extensive hotel inventory.
The DHR.com Travel Agency Program keeps on growing with its beneficial offers. As a result of long term cooperation with suppliers and purchase power; DHR can provide better offers, hotel deals, discounted rates and high availability for their member agencies at 150,000 hotels from all around the world. Travel agencies can earn 9% commission on TOTAL BOOKING VALUE of prepaid hotel bookings. This high commission advantage, timely commission payment and the competitive prices make DHR.com preferred hotel booking site for agents.
Their easy-to-use website makes it more preferable by the agencies. The sign-up and proceeding steps are guided and there is no prepayment or quota required for acceptance. Agents simply manage their accounts with their own log-in details, where they may follow and amend their reservations, watch their commission, reach their invoices and more.
DHR.com also propose options to the agencies in order to improve their website. This membership provides agencies to earn commission on their own website by adding DHR.com banner, text link or search form. This will also allow agencies to earn 9% commission for each referred bookings from agency's website to DHR.com website.
DHR.com Travel Agency Program is totally a free membership. Their only demand from the agencies is a proof showing that they are an agency.
DHR.com Travel Agency Program keeps on growing in terms of hotel database, advance technology and adding variety of products and features for travel agencies in 2012.
If you are interested with this program, you may visit DHR.com Travel Agency Program page for more information and fill the New Agency Sign Up form to become member agency.
###