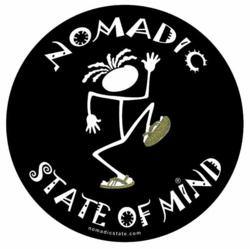 Fayetteville, NC (PRWEB) January 31, 2012
Nomadic State of Mind, a grassroots sandal company from North Carolina, will have their products featured throughout the upcoming Jennifer Aniston movie, Wanderlust. The company specializes in handmade and hemp footwear, organic apparel, and a variety of other unique products using materials made in the U.S. (when legally available) and assembled in part in a small community in Nicaragua which they have committed to helping support after years of struggling.
The crew at Nomadic State of Mind has been eager to see which products made the cut since they were first contacted by the production crew at Wanderlust last year. The preview for the movie, which is due to be released February 24, 2012, has recently been made available online. In it, a number of Nomadic products can already be seen, including one of their most popular t-shirts, a photographic print of Nomadic's founder and owner, Chris Anderson, and the VW van he started the company in with the caption "These are the good old days."
The movie is centered in a community of free spirited people with a unique way of looking at life. Nomadic State of Mind is a natural fit for the movie, although their customers stem from all walks of life. Customers who know and love the company find comfort in their laid back concept and corporate-free mentality. Even those that sport suits or scrubs during the week enjoy slipping on a pair of Nomadic sandals that can free their toes and their soles over the weekend allowing them to sit back and enjoy life in comfort knowing these are the good old days.
About Nomadic State of Mind
Nomadic State of Mind was founded nearly ten years ago and is based in North Carolina.  Manufacturing takes place both in Florida and in Nicaragua where the company has helped support a small community for the past eight years.  Nomadic has always believed in positive contributions to the world around them and is committed to remaining true to their roots.  For more information or additional art work please contact Chris Anderson or Shea McNally at 877-666-2376 or http://www.nomadicstate.com.
# # #