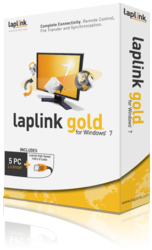 While Laplink cannot fix the problem with pcAnywhere, we can assist affected users by making our products available at special prices.
BELLEVUE, Wash. (PRWEB) January 31, 2012
Laplink Software, Inc. today announced a special discount program available to pcAnywhere users, while reaffirming that Laplink Gold remains safe and secure. This comes following Symantec's recent announcement that major security leaks were found in pcAnywhere, which prompted Symantec™ to advise its customers to discontinue use of the product.
Symantec, a major security software developer, confirmed last week the existence of a fatal security breach in its pcAnywhere software stemming from a 2006 attack by the famed hacker group Anonymous.
For more than 20 years, Laplink Gold and pcAnywhere have offered similar, alternative solutions to users needing secure file transfer, remote access and control to their PCs from anywhere in the world. Because these products rely on the Internet and network connections for remote PCs to communicate, it is inevitable that they are susceptible to security attacks.
"We live in a time where PCs are hacked, identities are stolen and data is not properly safeguarded," commented Laplink CEO Thomas Koll. "It's unfortunate this security breach occurred, leaving many users vulnerable and seeking an alternative. While Laplink cannot fix the problem with pcAnywhere, we can assist affected users by making our products available at special prices."
Because pcAnywhere users now have to find a similar solution elsewhere, Laplink Gold will be available for only $44.95, which is down from the normal $89.95 price. A single license of Laplink Gold can be used on up to five PCs. Laplink hopes that the limited-time price reduction will help those users that have been adversely affected by this attack.
"We know many users out there are hurting and scrambling to find a new solution," explained Laplink Director of Marketing Neil Minetto. "Hopefully the reduced price on Laplink Gold will ease the stress of some users out there that need to quickly find a new solution to access their remote PCs. Any user can benefit from this price reduction, single-home users and business users, as this reduction is comprehensive across all pricing configurations."
Laplink Gold provides secure peer-to-peer PC access allowing users to remotely control their PCs and access data from any location in the world. Laplink Gold offers users multiple authentication methods (including Windows), has multi-level encryption, and includes Microsoft CryptoAPI support.
Laplink Gold is available in a variety of configurations, from single-user licenses to a Volume License Agreement. More information, including special pricing for pcAnywhere users, can be found here.
Free full-version evaluations are available by contacting Laplink Corporate Sales at: corpsales(at)laplink(dot)com or by calling 1-800-LAPLINK.
About Laplink Software, Inc.
For nearly 30 years, Laplink has been the global leader in PC migration, file transfer, synchronization and remote access. Its innovative products and technology allow for the fastest file transfers and synchronization as well as protection from data loss and identity theft. The privately-held company was founded in 1983 and is headquartered in Bellevue, Washington.
###