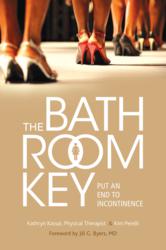 "Urinary incontinence is a silent epidemic among women. The Bathroom Key is the solution…I highly recommend this book!"—CHRISTIANE NORTHRUP, MD, OB/GYN, Author of The NYT bestsellers: Women's Bodies, Women's Wisdom and The Wisdom of Menopause
New York, NY (PRWEB) January 31, 2012
Family matriarch Kris Jenner revealed on her TV show ("Keeping up with The Kardashians") that she suffers from incontinence, and was frequently shown dashing to the bathroom—in many instances not quite making it in time. This led to Kris becoming a spokesperson for a urinary incontinence pad company. The new book, The Bathroom Key (Demos Health 2011), lets women know they can throw out those pads! There is no reason to suffer in silence, wear cumbersome pads, or search out every available bathroom while shopping. Physical therapy techniques, properly-performed Kegel exercises, biofeedback, and some basic advice on healthy urinary habits can relieve you completely of this embarrassing condition.
The Bathroom Key presents a program to treat—and in most cases, cure—incontinence. For women who suffer from urinary leakage, frequent urination, vaginal prolapse, pelvic pain, urinary tract infections, or a combination of these, this book is their salvation. The authors offer a surgery-free, pharmaceutical-free program that will change a woman's life forever.
Author Credentials:
Kathryn Kassai is a Physical Therapist and Founder and Director of Praxis Physical Therapy in San Pedro, California. Since 1996, Kathryn has specialized in pelvic floor rehabilitation, a highly effective specialty within physical therapy for urinary incontinence, organ prolapse, and pelvic pain.
Kim Perelli is married with two young children and used the program outlined in The Bathroom Key to successfully treat her own urinary incontinence. Kim is a member of the Authors Guild and is currently working on her first children's book.
###