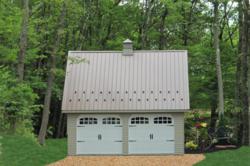 The two-story buildings from Sheds Unlimited are among the best built, and most aesthetically pleasing in the industry
Philadelphia, PA (PRWEB) January 31, 2012
For decades the Amish of Lancaster, Pennsylvania have been known for their quality built and prefabricated 2 and 3 car garage. This traditions continues to grow and expand throughout the Amish communities of Lancaster PA. Sheds Unlimited of Gap, PA is an example of a growing Amish-Mennonite owned small business which has increased the available options on their line prefab car garages and endured the tough economic times during the past five years. Coming out of 2011 with a record number of sales in the two and three car garage line, Sheds Unlimited INC is preparing for another robust year of producing prefabricated car garages throughout the states they serve.
For nearly two decades Sheds Unlimited of PA has been building the prefab 2 car garage on site throughout PA, NJ, NY, CT, DE, MD, VA and beyond. Most of the two and three car garages were at first produced with standard roof lines and few additional options. However, as the demand continued for more options in the two car garage line, Sheds Unlimited of PA continued to expand its options in this line.
As the economic downturn continued to impact Shed and Garage manufactures throughout Lancaster County, PA, Sheds Unlimited began offering simple dormers and a car garage with attic space. The attic space on Sheds Unlimited two and three car garages allowed for customers to make use of the truss area of the buildings produced by this Amish-Mennonite owned company.
Then around 2008 the line of 2 car garage models expanded again. This time it was the addition of the Legacy two-story garage. Sheds Unlimited raised the par of 2 story car garage models produced by offering a line of buildings that would not only provide ample storage space, but a prefab car garage which is aesthetically pleasing. A Sheds Unlimited associate reported "The two-story buildings from Sheds Unlimited are among the best built, and most aesthetically pleasing in the industry."
From the late 1990's, Sheds Unlimited has been producing storage sheds in PA, backyard structures for NY and two-car garages throughout the northeastern USA. They are a family owned and operated company which has proven to be successful in good and bad economic times.
###