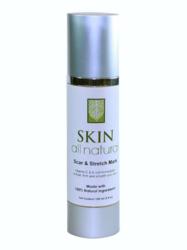 A natural alternative to strong chemicals or laser treatment for reducing the appearance of stretch marks.
Apex, Raleigh, NC (PRWEB) January 31, 2012
Stretch marks are caused by changes in the elastic supportive tissue that lies just beneath the skin. They develop when the skin is excessively stretched during pregnancy, weight gain, growth spurts. When the skin is stretched over a short period of time dermal tearing occurs which creates scars in the skin dermis. Depending on the color of skin the stretch marks may look pink, reddish, brown or white.
They are small depressed streaks in the skin that can affect both men and women. Stretch marks are weaknesses in the supporting structure of the skin causing layers of the skin to separate, leaving the skin discolored and grooved.
Scientists at SKIN all natural™ studies plant peptides that trigger natural healing and repair mechanisms in the deep layers of the skin and combined them with right amounts of botanical ingredients rich in vitamin C and E, triterpenes, poly-phenols and other cell regenerating compounds. Instead of using water, a primary ingredients in most creams, they used aloe juice for its soothing anti-inflammatory and scar reducing properties. This cream also contains four different cold pressed oils to infuse the right amounts of fatty acids, sterols and amino acids important for the strengthening of cell walls, and help skin retain elasticity, clarity, and suppleness.
About SKIN all natural™
SKIN all natural™ is a cosmeceutical brand of Choice All Natural, Inc. a small family business dedicated to providing high quality, plant based and cruelty free alternatives to beauty, health and wellness consumers. Based in Apex, North Carolina, Choice All Natural, Inc. formulates, manufactures and markets 100% natural consumer products. For more information visit http://www.skinallnatural.com.
# # #