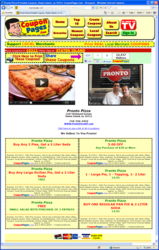 CouponPages is one of the only sites online that focuses exclusively on printable local coupons
Staten Island, NY (PRWEB) January 31, 2012
CouponPages is doing what no other coupon and deal site has ever done before; it deleted thousands of coupons that it's Founder Joe Crescenzi doesn't consider "Real".
"A code for free shipping or a discount at Zappos or Dell is NOT a real coupon!", says Crescenzi. "I see no reason to build an entire site full of nonsense like that. 100% of our coupons are real, which means you can print them and bring them directly to a local merchant."
"You have to remain true to your core values and stand for something. People come to us looking for coupons and that's what we're going to give them. They know that we are one of the only sites online that focuses exclusively on printable local coupons. That's it. That's all we do and we do it real well."
CouponPages removed every link to online "deals", "codes" and similar special offers. Their mission is to build the only savings site online that doesn't flood their visitors with an endless stream of non-printable offers, which traditionally link to other web sites.
"The reason I'm so passionate about removing all those offers is that I want to put the focus entirely on offers real people can use to get them to go back into the "real" world and support local businesses. Whether it's their local pizzeria, tavern, shoe store, supermarket or even a big box store like Walmart or Target, we want people to shop local and support local jobs.. not mail order companies.", added Crescenzi.
CouponPages is one of the oldest and largest printable coupon sites that features printable coupons from local merchants. 100% of the coupons on CouponPages.Com are printable. The site does not feature "Coupon Codes" that are used to buy things online. "Every coupon on the site is a printable offer you can use in your own backyard" says Joe Crescenzi.
###